LIVIN' ON STILTS
Feb 6
First, Matt and I want to congratulate my new cousins on their beautiful cherubesque baby boy!  From what I saw in pictures, he's wonderful, and we can't wait to meet him.  
We didn't get our Po-boys on Tuesday.  Womp womp…Parkway Tavern is closed on Tuesdays. In fact, its the only day the shop is closed. Poor us.  We ended up running a few errands and then back at the campground.  On Wednesday, it was on. We had a fantastic day planned.  Our first stop was Parkway Tavern, where we ordered BBQ Beef Po-boy, Catfish Po-boy, fried pickles, and French fries.  If that sounds like a lot of food to you, YOU'RE RIGHT! It was way too much food, but it was also very very good.  The BBQ Beef po-boy pretty much fell apart as we ate it. But, like the Parkway Tavern napkin holders said, "if you don't need napkins, it's not a Po-boy!"
The catfish was pretty tasty, fried to a golden brown, and both sammies all dressed. I didnt realize it until later, but New Orleans has provided my first experience eating Catfish.  Contrary to my mom always saying "they taste like mud," the fish was moist, meaty, and mud-free.  Although, you could probably bread and fry just about anything, including a glob of mud, and I'd like it.  The pickles were a little greasy but that didn't stop us from devouring the hot pickle goodness.  That Louisiana hot sauce is at the top of my favorites. It's so vinegary and spicy enough to give some heat without enveloping the receptacle (or my sandwich) in all out flames.
So, I met this girl on Instagram…Yes, I know how that sounds. Her Insta name is @travels_with_betsy.  Betsy is her 1963 Ford F100 pick up.  She pulled up toward the end of our meal in her rig just to say hello. We had been talking about meeting up the whole time Matt and I were in NOLA, but it just didn't work out.  We only had a few minutes for a quick hello, but she's a darling and delightful person, with an interesting story of her travels out here.  I wont ruin it for you, but you should check out her page and blog travelswithbetsyblog.wordpress.com. I wish we had more time to spend together. Originally from Long Beach, we both reveled in what small world it is both coming from SoCal and ending up in NOLA on a similar mission – to explore America! Silly us, we both forgot to take a picture in our excitement to finally chat face to face. 
After leaving our new friend, Matt and I headed to our Swamp Adventure.  Being the offseason, Matt and I were lucky enough to only have two other adventurers on our swamp tour aside from our guide.  He took us through the swamp in our airboat, pointing out different facts about the swamp along the way.  At first, we were only blessed with turtles.  As cute as they were, I was afraid the turtles were about to be come the dolphins on a whale watch.  Every time I've gone on a whale watch tour, I've seen hundreds of dolphins, but not any whales. 
To be fair, we were told that it's not really gator season, as the cold weather keeps them buried in mud for months at a time. However, we were lucky that it was one of the warmer days that week.  We did get to see a handful of baby gators, or chicks, as they're known.  And then, one gorgeous four-foot momma came out to play! By "play" I really mean she laid there completely still without any care of us.  But we saw one!  We'll have to do a tour during gator season, because seeing her gave me gator fever.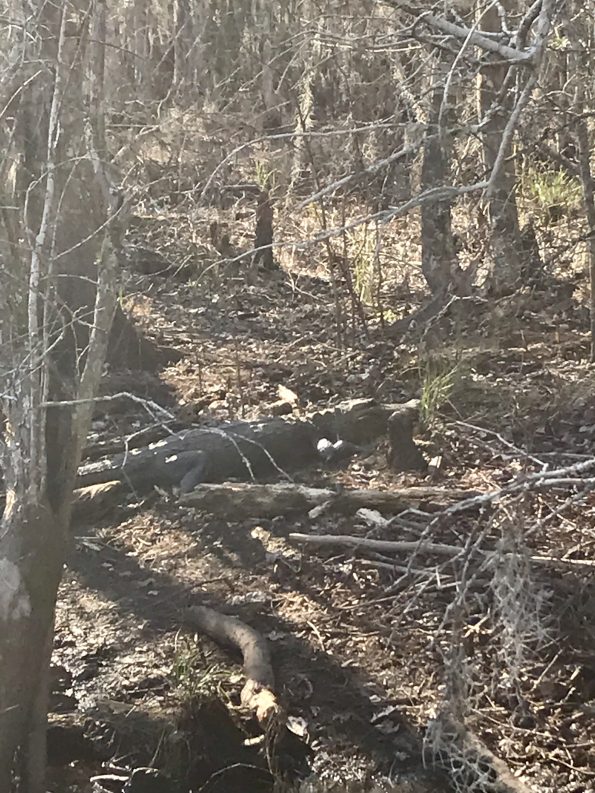 After the swamp tour, it was time to leave Louisiana.  Matt and I liked New Orleans, but were very happy to be out of a city.  Although, this was one of the easier cities to navigate our rig in, it's still a different trip than, say, staying in a hotel on vacation. We're on a budget and have to be cautious with our home on wheels.   I did find interesting the number of above ground tombs in the city. Every cemetery we passed, and there were many, was full of above ground architectural beauties. I understand it's because the city was built on a swamp.  Imagine digging a hole to house the dead, and it filling up with water, creating a sort of muddy death soup.  The above ground tombs and large number of cemeteries really gives one the sense of a haunted city. There is a depth of darkness Matt and I both objected to explore this time, but I would like to go back one day on an actual vacation and learn more about the haunted history of New Orleans.  Mental note: next visit to NOLA, make sure it's during gator season, and do a Haunted tour.  We also missed out on crawfish season, but I think we'll be able to make up for that in another state somewhere along our trip.
We spent one night in Mississippi.  I hadn't really given that state much thought before, but I was instantly enamored by the gorgeous sunset we received upon arriving at our campground.   We also had the opportunity to interact with some of the nicest people I've ever met. 
We drove most of the day Thursday, and ended up parking for a free night at the GIANT Bass Pro Shop.  The Bass Pro Shop in Memphis, Tennessee, is basically a funhouse for all things fishing, boating, and hunting.  The building has a couple of restaurants, a fudge shop, and its own hotel with a $10 ride up an elevator to the top of the pyramid.  We did not take this ride. What we did do is marvel on the inside of the store, though. Large ponds flowed open throughout the store with bass, catfish, some other fish I didn't recognize, and the magnificent Alligator Gar.  The Bass Pro Shop even had a gator pool.  We weren't in an airboat, but still pretty freaking neat.  After about an hour of wandering through the shop on Friday morning, we bought Fred a squeaker toy, and headed out of Memphis.
We were both so ecstatic to be back in the woods.   Rather than head straight to Nashville, we stopped at the Natchez Trace State Park for two nights.  We're both a little surprised that there isn't more free/cheap camping in Tennessee.  Any little bit of research probably could have told us this, but what will be will be.  The campground was around $25/night. Not terrible, and we had hook ups. It's very chilly in Tennessee. All my friends in the 80 degree California weather right now are looking pretty good. 
The state park had miles of horse trails and a few single track, hiker only ones.  On one of our hikes, we followed a horse trail down to Cub Lake, had some hot tea on the bank, while contemplating our future. There was something perfect about the serene beauty of this still lake after a bit of exercise that freed our minds and opened the soul to the world of possibilities ahead.
Although distracted by the pretty trees and scenery, it's obvious the youngins come here to party away from parental eyes.   We saw a number of beer cans and liquor bottles thrown to the side, amongst other trash like panties and chip bags.  I wish these kids would take a little more pride in their land, but I'm just a cranky old woman that wants them off my lawn. 
On Sunday, we weren't quite ready to head back to a city. Matt found a fantastic free spot at the Meriwether Lewis Monument.  The campground was very clean with almost level spots, a nice heated restroom, and it was free!  We only had one neighbor far enough away from us that we couldn't see or hear them.   The trails in the area weren't heavily used, or maybe just aren't this time of year, and barely maintained.  Thick layers of fallen leaves covered the ground, making the trails hard to find in parts.  Still, I was in love with this spot and wanted to stay the rest of the week.  Here's the thing about that, though, we barely had a lick of service.  Because it was Sunday, we could only spend one night there before needing service for the work week ahead.  As sad as I was, we tried to make the best of it. 
That same day, we rode our bikes to the Meriwether Lewis death and grave site. His death comes with some controversy.  One side believes that it was a suicide and the other believes murder. What we do know, is he was 34, governor to the Louisiana territory, possibly upset about not having a wife and the bad state the territory was in. While traveling to DC, his body was found. It's possible that he got drunk enough, full of sorrow for his current position, took his own life. However, I'm of the mind of foul play. He was found with a shot to the head AND the stomach. I don't know about you, but the shot to the stomach clinches the theory of murder for me.
We also got to walk a small portion of the Natchez Trace Trail.  The Natchez Trace trail is about 440 miles long, stretching from Mississippi to Nashville, TN.   The Old Natchez Trace was created and used by Native Americans living in the area, and later used by European and American explores and the like in the late 18th and early 19th century.  I'm unclear on how much of the existing trail is the same from back then, but just walking the small portion we did gave me a sense of awe of another historically significant part of our country's past.
Both Tennessee and the little we saw of Mississippi were beautiful. The forests lack the layers of canopy found in the pnw. We didn't come across any substantial mountain ranges in either state. Although we do plan on going to the smokies, we're saving that range for the spring when it's a little warmer. All in all, the trails we took were leisurely strolls, but still so beautiful and full of life. The bare trees and fallen leaves give off a gothic romanticism.   
Monday morning, we woke up to 22 degree weather. It was dry out but without hook ups in the free spot, we were quite cold.  We did have our propane heater running, but I've learned the electric heater is much more efficient and keeps the camper drier.  Now, we're in Nashville at their fairgrounds with RV sites.  It's $35/night, which sucks, but it's our best option to be in the town.  I predict we'll only use tomorrow to explore the area as we're anxious to get back to nature.
Xoxo
Ariel + Matt