LIVIN' ON STILTS
Jan 30
On Monday, we said goodbye to Natalie and Brandon and headed to Galveston, TX. 
Galveston is a long narrow island off the Gulf Coast of Texas.  We had absolutely beautiful weather, warm and sunny but not too humid.
We stayed at the Galveston Beach SP.  Another funny state park that charges you an additional per person fee each day.  In every other state, your day use fee is included with the campsite. Most of the Texas state parks seem to be under our budget, but then exceed it with the day use fee.  Thankfully, we were so under budget in Arizona and New Mexico that we can afford higher campsite prices as we close out January.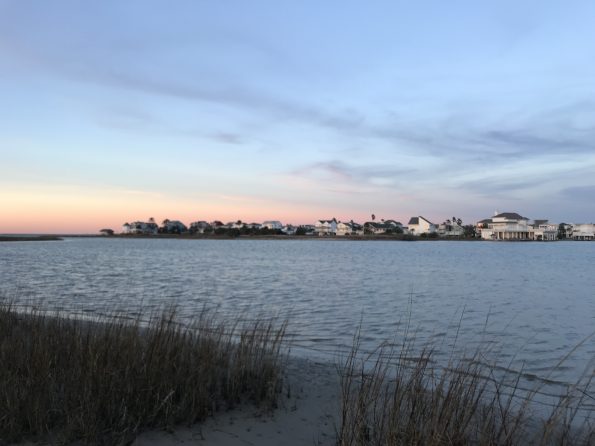 We did a long walk along Jamaica Beach. This is my first experience with a south facing beach. It tripped me out a bit watching the sun set. Every house and business in this area of Galveston is on these super tall stilts.  I was told the buildings get decimated in a storm.  The homes were colorful, like a rainbow of pastels, similar to the fun streets in San Francisco.  Although, these homes were detached for the most part.  The Gulf was brown until the water got deeper. Not like the cold blue waters from home, or the crystal clear aqua marine waters of Thailand.  Even though they were tinted brown, the water still looked beautiful with the backdrop of sunny blue skies.
Galveston was pretty much deserted.  I assume a lot of those homes on the water were just vacation homes and packed up for winter.  We went to Pleasure Pier on Tuesday.  The pier is similar to the Santa Monica pier with its ferris wheel and other carnival type rides.  Unfortunately for us, the pier is closed during the week, so we only got a look from the outside. After not riding the ferris wheel, we headed to The Strand, which use to be old timey Galveston's main street. It was similar to Venice, but being off-season, The Strand was empty and much cleaner than Venice. Since the town was all but shut down for winter, we ended up doing a driving tour and then heading back to camp.
We left Galveston on Wednesday.  I have to say it again, Texas is very large.  We stopped at a free park that evening in Winnie, Texas.  On our way to Winnie, we stopped at Buc-ees.  Buc-ees is a lot like Texas, huge and full of crap. Just kidding, I really liked Texas, but Buc-ees was gigantic and sold just about anything you could want or need.  Not only did they have rows of sauces, the convenience store also sold home goods, bikinis, barbecues, you name it, they probably had it.  Buc-ees also has more gas pumps on a single property than I've ever seen.  We each got a 44oz soda for 79¢, and used their super large and clean bathrooms.  I know I complained about the lack of seat covers last post, but Buc-ees is doing it right. Instead of a seat cover, the super large beaver in a cap offers sanitizer for the seat, and then another thing of Purell if you want to sanitize your bum.  I'm actually not sure if that one is intended for the bum but they were in every stall.
On Thursday, we made our way in to Louisiana.   This is the first state we've driven through that gave us the feeling of truly being somewhere different.  We drove over a number of bridge covered swamps, the trees were totally different, and just the landscape in general.  It's just so flat here!
We landed in Baton Rouge that same day.  Baton Rouge is rich with history and covered by LSU buildings. We stayed at a big equestrian park that night, very close to some funny horses and the Mississippi River.  This is my first time seeing the Mississippi River up close, and not from an airplane. I learned one reason the early settlers in the area liked Baton Rouge was the natural levee around the river.  On Friday, we visited the Old Governors Mansion and The Old Capitol building.  We finally picked up some anti-anxiety treats for Fred, with melatonin, chamomile and tryptophan in them. That little squeak box now can chill out while we're exploring. 
We drove through some pretty heavy rain on Saturday as we headed to a large lake outside of New Orleans called Lake Pontchartrain. I have no idea how to pronounce that, so have fun trying yourself.  We stayed at Fairview Riverside SP for one night. It seems the state parks in Louisiana have the same day use fee tacked on to their camp fees, but they call it a transaction fee instead. This campground set us back around $36 that night. Still, we have a big buffer from the beginning of the month, so it was okay. 
Sunday, Fred and I did a little walk around the campground and on their Swamp Trail.  It's basically a boardwalk built over the swamp which was so fun to walk through with my little gator bait of a dog. 
That afternoon, we headed to the French Quarter.  My drinking in public days are far behind me, but it was fun walking around. They had their Mardi Gras kick off parade the night before. I was impressed by the clean up. Trash cans were full and stinky, but the streets themselves were pretty clean.  It all seemed like a movie set. I've been to Disney Land's version (which is obviously way cleaner) but it was surreal to see the real thing.  My iPhone pictures just couldn't do it justice. 
Our fist stop was at Cafe Beignet.  If you've never had a beignet, they are basically the French version of a donut. This little square of perfectly fried dough is covered in powdered sugar that melts perfectly in your mouth.  I really like food, and sweets in particular. This is the first time in my life that I understand the term "mouthgasm".  Yes, they were that good. 
Matt and I went to Gumbo House shortly after.  We had gator sausage with sweet grainy mustard, chicken andouille sausage gumbo, and seafood jambalaya.  I'm not a huge gravy person, but the flavor was beautiful. I wont need gumbo again, but I'd order jambalaya over and over again.  Gumbo House also had this gorgeous garlic Louisiana hot sauce that I smothered my gator sausage in. All in all, a great meal!
We met up with Matt's long time friend, Doug, after our early dinner.  Doug works at Pat O's on Bourbon street.  This guy must have the patience of a saint to work in this crazy touristy part of town.  He took us around the French Quarter, to Cafe Du Monde, and then to the top floor at the Westin for a gorgeous night time view of the river.  I put Cafe Du Monde in my pocket for the next day, needed to try another set of beignets.  Twice in one day felt gluttonous.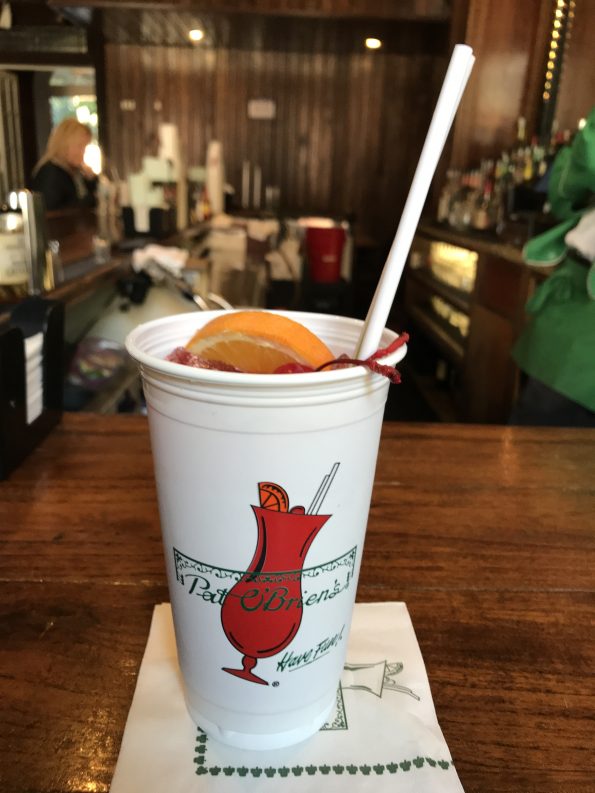 Monday is a whole different story in the French Quarter. We still saw people walking around, but few and far between, and nothing like the bead wearing drunk-os from the night before.  Around lunch time, we stopped in to Pat O's where Doug was working for my first Hurricane.  What can I say about a Hurricane?  Well, they're just full of rum! I also devoured cat fish strips, smothered in the Louisiana hot sauce. 
We hung out with Doug for a while before walking to Cafe Du Monde for a Cafe au Lait and beignets.  These beignets were a little different than Cafe Beignet. Slightly smaller and crispier, but the mound of powdered sugar was the same.  I can't choose between the two, and recommend you try both versions.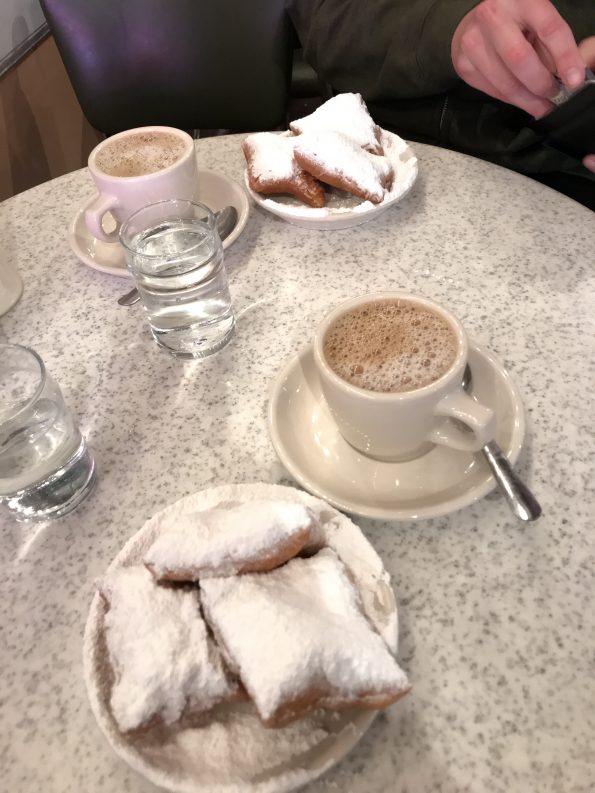 We have plans to try Po-boys from Parkway Tavern today.  I have to admit, my stomach is jacked from the last couple of weeks. Between the food in Texas and Louisiana, I'm not sure I how much longer I can last.  Most people who know me well know I have a terribly sensitive stomach.  I wish I was a street dog that can eat anything, because I absolutely LOVE eating, especially in a place famous for their foods.  I'm also not the type of person that can just try a bite. I'm going to eat that whole damn po-boy and probably part of Matt's too.   I know detoxes are pretty much bull shit, but my body is craving one.  We have a few more exciting days planned and then we're outta here!
I miss my friends and family terribly. The first leg of this trip was new and exciting, and then we had the holidays back home to look forward to.  Please let me know if you're going anywhere and I'll try to keep you all up to date on our travel plans in case we can make a meet up work!
We'll be in Tennessee by the end of the week. First stop is Memphis, then Nashville, a day in Knoxville and then the smokey mountains after that.  End of February, we'll be in Georgia, most of March in Florida.  Let me know if any of you will be around!
Cheers!
Ariel + Matt
HIGHLIGHTS:
Spent a couple of nights in Galveston, right on the Gulf of Mexico. Went to Baton Rouge to soak up some history, before heading to New Orleans.  Walked around the French Quarter, ate beignets, gumbo, jambalaya, and gator sausage.  Drank my first Hurricane. Accidentally drank 3.  I never need another one.
ROAD LESSONS:
Both Texas and Louisiana state parks seem to tack on an additional per person per night fee even if you're camping.

 

Really drives the price up per night on these spots. Not a lot of free camping options close to the city.

Hurricanes are full of rum. Don't get the frozen slushy type. Get a real one from a bar.

Lot's of skeeters out here on the bayou. Where your Deet!