LIVIN' ON STILTS
April 10
Our day in DC was full of highs and lows. First, driving in DC is ridiculous. It's crazy enough in a compact car, but in our truck camper, it borders on lunacy.   We know this. We've been through cities before. It's difficult and again, we KNOW this. But we went anyway because I've always wanted to see the monuments and the White House. It would have been crazy to drive by without at least checking it out.  So we suffered through the drive, paid $45 (no that's not a typo) to park for three hours at Union Station because it's the only place that has oversized parking in the city.  If we were willing to pay a ton of money to camp at Cherry Hill, it all might have been simpler, but then again probably not.
Any who, after finally parking we headed off on foot to explore our Nation's capital.  First stop was Capitol Hill and the Capitol building.  The building was especially grand and beautiful, which is to be expected since, hello!, it's the capitol in our capital.  All of the "a" or "o" business is confusing here, so please excuse me if I use the wrong "capital/capitol" in this post.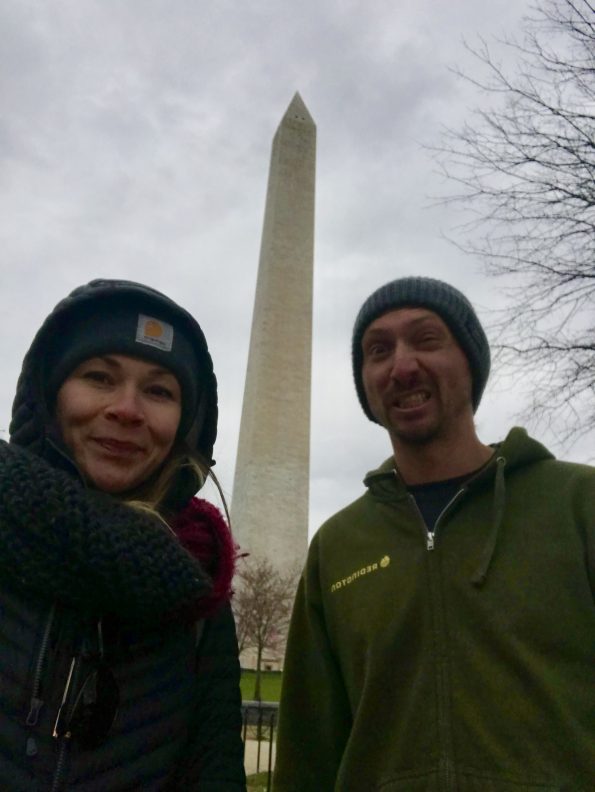 Our next stop was the Washington Monument. We saw a few other nice statues and monuments along the way as well.  The Washington Monument is very tall, pointy and ridged.  Tours are closed for now, or maybe forever. I didn't do enough reading to find out because we didn't plan on taking one either way. 
After that, we continued down the path toward the Lincoln Monument.  On the way, we saw the WWII Monument and the Vietnam Monument.  The WWII Monument was beautiful but completely down voted in my opinion because of the black gaudy fences they had up all around the fountains. I get it, people are stupid and would totally jump in the fountain, but come on! You couldn't have put up a more tactful fence?  Maybe even one that matches the delicate beauty of this particular monument? Someone needs to get their shit together and fix this stat. Obviously, the fence is this nation's greatest issue and should be looked into immediately.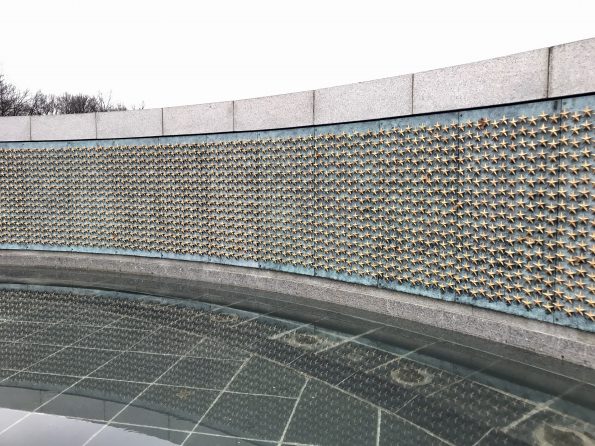 Finally, we made it to the Lincoln Memorial. I have been looking forward to staring at this bad boy since I was a kid.  And let me tell you, Mr. Lincoln did not disappoint! Such a beautiful sculpture made by the awesomely named Henry Bacon.  Even with all of the other tourists gawking, it was as if I was in my own little bubble with Fred, Matt and our 16th President. I bought a special magnet, stared at the monument for far too long and then we were off to see the White House.
Every one always says the White House is much smaller than you would think. So, for me, it wasn't small at all. My expectations were some dinky little thing, but it was pretty wide and very clean. I'd like to see some power washing porn on the White House.  Trump was in there somewhere. I knew because I obviously checked his daily schedule. In actuality, I didn't want us stuck in some crazy motorcade traffic, so I planned ahead. The house was surrounded by guards with automatic rifles, and not one of them smiled for my picture. Who do they think they are, the Queen's Guard?
Any who, I was not at all disappointed in DC's monuments, other than my earlier rant about the abhorred fences, of course.  It was bitterly cold and did rain on us a little, but I tried to distract myself with the beautiful trees.  When I planned this walking tour of DC, I figured it would be around four miles in total. We ended up doing almost double that, and poor Fred needed to be carried for half of it.  He was cold and wrapped in my scarf, bobbing along in either Matt or my arms.  My biceps were sore Wednesday, which reminded me how long it's been since we've been to a gym.
That afternoon, we went to Pohic Bay Regional park for the night. It was a very big park with a nice campground.  A bit expensive but we got a small AAA discount. I would to have like to explore the park a bit more but we didn't have the time and I certainly wasn't doing any more walking that day.
Wednesday morning (March 28), we headed farther north to Gettysburg, PA.   We found a campground called Artillery Ridge Park about a mile from the Gettysburg National Military Park.  Our old friend, the rain, came back to hang out the rest of the afternoon, making for a very muddy campground.  The campground took our Passport America, giving us another 50% off for the next couple of nights. 
Thursday morning (March 29), Matt and I ditched Fred and walked to the Gettysburg National Military Park Visitor Center.  We grabbed a map from the Visitor Center and did our own little walking tour of just a small portion of the park.  In that small portion alone, we must have passed by at least 100 monuments. We were told that there are over 1,300 monuments throughout the park.  We saw a few of the vital battlegrounds that led to the Union's success as well as the very grand Pennsylvania Memorial.  The foggy grey skies, cool weather, and soft muddy ground gave the entire field a very eerie feel.  We took a horse trail through the spooky woods on our way back to camp. 
Friday (March 30), the three of us headed out to tour the rest of the huge park. We hit some of the more important parts of the three-day battle.  It was another gloomy day with sprinkles of rain.  The Gettysburg battle happened in July, but I think the weather really gave the area that haunted feel. Over 50,000 soldiers died there, and the feeling was palpable. I'll post more pictures at the end. 
That night we headed closer to Philadelphia to a casino for a free night.  Nothing special about that, unless you consider the insane amount of mud exciting.  Saturday, we went to Swatara State Park and did what started to be a super boring hike called Bear Hole Trail.  The trail was on the Old State Road, so it was pretty wide and mostly gravel.  The area was beautiful, but didn't get fun until we found the Bordner cabin.  This guy hand built the cabin over two years in the 1970s.  If I understand the story correctly, Pennsylvania basically told him it was their land now and to leave.  He refused and ended up paying the state to rent the land.  The cabin is now being restored, and I have to say, this guy picked a phenomenal spot with the best view in his living room.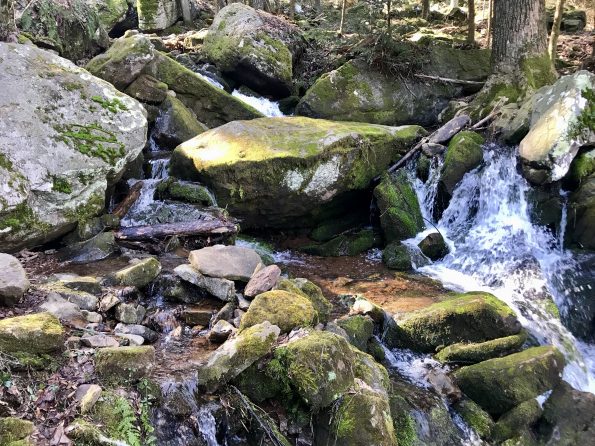 After the cabin, we continued until we hit the Swatara Rail Trail, making our eight mile walk into a loop. Thank goodness too, because I would have been bored out of my mind walking back on the other trail.  There was a nice slow river flowing along side us for most of the hike.
That night, we decided to drive as close as we could get to Philadelphia.  We ended up staying at another casino on the outskirts, scoring another free night. It was so windy that night. I woke Matt up at 4am, in my early morning delirium asked him if we were going to blow over.  Thankfully, all was well, and we stayed upright.
We did another city walking tour on Sunday.  Philadelphia is another super walkable city.  It was a both a blessing and a hinderance to be walking around on Easter Sunday. No traffic, plenty of parking and not too many people on the streets.  It also meant that everything was closed. Even the Target we stopped by on our way out of the city.  We didn't get a Philly cheesesteak because the spots were closed, but we did get to see all of the highlights without too much interference.   We did a quick stop by the Rocky Statue and the stairs he famously ran up.  Then parked near Independence hall so we could spy on the Liberty Bell. I sure as hell wasn't going to wait over an hour in line to take a picture next to it, so I grabbed a few photos from outside of the building.  Luckily, its surrounded by wall to ceiling windows. 
We also went to Love Park, and saw some incredible architecture.
We originally planned on staying at an RV park in the city.  When the forecast warned a few inches of snow, we decided it was best to get out of the city.  Pensylvannia has THE WORST roads we've ever driven on.  We feel it especially bad in the truck and camper.  It's also SOOOOO muddy.  Philly wasn't muddy, but we didn't want to risk driving on those streets in the snow. 
We ended up in New Jersey as a fantastic county park called Mahlon Dickerson Reservation.  It was cold, but we're plugged in.  Monday, it was snowing!  We knew it would snow, but this was crazy thick.  I'm guessing around five or six inches, and let me tell you, Fred was not having it. He ended up peeing under the truck, poor little bugger.  It was actually pretty hilarious watching his reaction. Once he got the hang of it, he did have some fun romping through the thick powder. 
We had a trail right off of campground, so we bundled up and went on a snow hike.  I really wish we had some snow shoes but this is the first real time they would have come in handy.  It was still super fun to trudge through the fluffy snow.  We were totally alone and the first to lay our tracts.  We didn't stay out long and that's totally my fault.  Back while we were sweating in Florida, I decided it would be a great idea to pack up our snow gear since it would be Spring soon.  Well weather, you win again. We weren't cold at all but my gators and snow pants were tightly packed away on the roof, and it wouldn't have been safe to try and get them out with all the snow on our roof.  So my pants got a little wet, but the hike wasn't long enough for it to really matter.
We pretty much just hibernated the rest of the day and woke up to rain the next morning.  The rain washed away a lot of the snow but the campground is still covered.  Over much deliberation, we decided to stay in this snow covered New Jersey campground for another couple of days rather than try to fight with NYC traffic and super expensive campgrounds.  I really wanted to see the Statue of Liberty.  Originally, we thought we'd rent a car for a few days and travel that way. It just became way too complicated, and this trip is about expelling stress, not putting ourselves smack dab in the middle of it.  I tried to post this on Tuesday for week 37 but didn't reliable enough service to get through it and upload pictures.  Seems like a bi-monthly post is the new trend.
It was incredibly foggy on Wednesday.  We had a few new neighbors but could barely see them through the thick dense fog or the blinding white snow that covered the campground.  Fred and I went on a walk around the campground. He was not as happy as I was to be out of the camper.  The rain stopped early morning, so we had nice dry grey skies the rest of the day.  We hiked around the campground, following the maze of trails in the park.  The snow we trudged through just a couple of days before was all gone! Still cold as a mother effer out there.
Thursday, we decided to go off course again and head to warmer weather.  We ended up in Delaware! The first state. Not a place that I even considered going to for some reason. I'm glad we did. It's a lovely, if tiny, state.  One main highway that goes through Delaware's three counties. Yep, they only have three. No room or reason for more.  We landed at Killen Pond, along MurderKill River in probably Delaware's biggest campground.  According to the old Googling machine, the name originates from the original Dutch name, MoederKille, or  "Mother River". Moeder, means "Mother", but sounds like "Murder". Kille…well you get the gist.  Now it's Murderkill, which is much more fun. 
The next day, Fred, Matt and I walked the small trail around the pond.  The area was beautiful, covered in cushy pine leaves, with so many squirrels, Fred's head practically did a full 360 trying to keep up with them all.
It was pretty windy those couple of days, and I ended up with a sore head and stuffy nose, super cool watery eyes, and a fog I couldn't climb out of on Saturday.  I'm guessing allergies, although I've never really had an issue with them before. Oh the joys of getting older.   Fred and I did the pond trail again that day.  I felt better after a little exercise. 
We left Sunday and headed to a free spot in Redden State Forest.  The gates were up and no one home in the office. So we cut our losses and ended up at a Casino not far away for the night.  It's a good thing we're both apathetic when it comes to gambling. With all of these Casino parking lots we stay in, we could be super in debt…or super rich. So goes the casino mentality.
We left early Monday morning, did some super fun laundry, ordered some new tires (no sales tax in DE, yippee!) and then went back to the free spot in Redden State Forest. The campground has five spots nestled in the skinny pines and hemlocks.  A very grumpy man assigned us our permit for the free stay. 
We are continuously learning along the road. We are sick of the cold and pissed at Winter for not knowing when to take a back seat to Spring. So, some big changes are coming our way. 
Xoxo
Ariel + Matt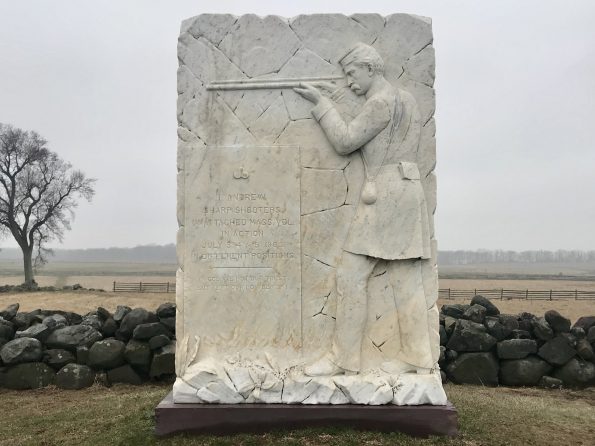 MONUMENT