LIVIN' ON STILTS
Feb 19 
On Monday last week (Feb12th), we went to the the Andrew Jackson Hermitage. Again, it was freaking cold, but being in on a property so rich with history and education was not only fun but fulfilling!  A very nice volunteer took us through the mansion, pointing out all of the historically significant values and pieces in the home.  We learned a lot about our former President and his life before his Presidency.  I can't say whether or not I like the dude, but I think my feelings would have been different during that time. Being a woman and from a completely different generation, I can say without a shadow of a doubt today, still not sure. ha!  I also doubt I would have been of the class or sex to have had an opinion in the 1830's.  Any who, his home was beautiful, and I love his love for tall ceilings. 
The next day, still in Tennessee,  it was so freaking cold. Not snowing, but a little rain. It was just ass-bitingly cold.  We left the overpriced but safe Nashville Fairgrounds and went to Centennial Park.  Centennial Park was beautiful.  The park has a life sized replica of the Parthenon with a statue of Athena inside.   We didn't go inside because we had Fred and dogs weren't allowed, but the outside was so interesting.  We walked around the park and several of the sites quickly due to the chill in the air.  Some of those sites include the 576 Locomotive and the Tennessee Women Suffrage Memorial. 
After Centennial Park, we drove through Music Row.  We didn't spend time in any of the fun divey bars in Nashville. It's not really our thing, and it was just so cold out. Not to mention, the parking situation wasn't ideal.  After our day out, we headed back to the Fairgrounds for another overpriced night in the city. 
On Wednesday, we headed south toward Georgia.  We spent that night in a Walmart in Chattanooga, TN.  Chattanooga was surprisingly great.  We spent Thursday in Chattanooga catching up on chores and just exploring.  We found a free spot in the woods not far from the city's center.  It was a very pretty drive and we were happy to have found our spot for the night.  A nice man let us know as we parked that they were there for a horse event that weekend, and to expect quite a few more trailers and horses up there soon.  We were only there for the night, so we didn't mind and settled in.  We didn't have much service so we definitely weren't  in it for more than a nights sleep. 
On Friday, we headed into Atlanta. I wish I could say we explored the city, but we headed straight for Stone Mountain, and saw nothing else. Stone Mountain was amazing, and would have been perfect if the trails allowed dogs.  Matt and I did the short trail straight up to the top of Stone Mountain before visiting the Stone Mountain Carving.  Fred was pissed he wasn't allowed to hike with us, but since he's a dog, he got over it quickly. 
I had big hopes for Springer Mountain that weekend. I really wanted to visit the start of the Appalachian Trail.  Unfortunately, there was rain and lightening storms in the weekend's future.  Neither of us really knew what to do other than wait out the storm and head up there the next weekend. And then, in a stroke of genius, Matt threw out the idea of just booking it to Florida and then coming back in Spring.  I'm so plan oriented that it didn't even occur to me to throw out our current plan and readjust.  But that's exactly what we've done!  So now, instead of staying in Georgia, we decided to come down to Florida, warm our bones, and head back to Springer after.    The  bugs might be worse, but I don't even care if it means I can feel my fingers.
On Saturday (Feb 17th), we did a long drive to Jacksonville, FL and stayed in Hanna Park.  Its a huge park, and we were lucky to get a spot without a reservation.  We were so used to being in the off-season every where else, we didn't realize Florida was most popular in the winter.  Duh, its freaking warm here and the snow birds from up north need to defrost.  We ended up booking a couple of spots down along the east Florida coast just to make sure we actually have places to sleep the rest of the week.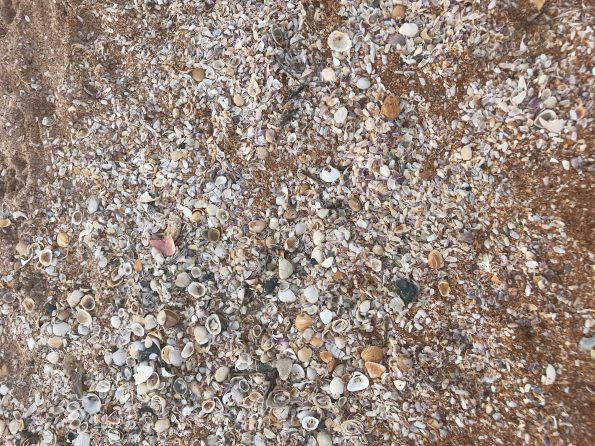 Hanna was a nice campground, even if a little cramped.  Fred was so happy to be in warm weather again. He did hot laps around our spot. All of a sudden, we were opening up all of our windows, running our fans, wearing shorts. It was like we were on a tropical vacation within a few hours drive.   We did a walk to the beach with Fred, he did some more hot laps in the sand and we just felt, well, warm.  FINALLY.  I could get used to this.
It was humid, but we've found we don't really mind it. Actually, we are more comfortable now than we've been since California in December. 
We spent Sunday and Monday night in Flagler Beach at Gamble Rogers SP.  I booked this spot blindly online. All I knew was that it was close to the beach and they had one spot left.  Holy cow, was this campground amazing. We butted up to the beach with a boardwalk look out next to our spot.  The bathrooms were super clean with nice big showers, and friendly neighbors.  Dogs aren't allowed on the state park beaches but the Ranger let us know we had a dog friendly beach just a quarter of a mile walk away.  We took Fred to the beach that same day.  The sand wasn't really sand as much as gritty shells.   You basically sink in to your ankles walking on it. Better work out, but much different than the harder packed sand we're used to.   
On Monday, we went for another walk to the beach and I did a bike ride on their bike path along the coast.  Not sure if it's because we came from 30 degree weather, but I haven't felt this good in a long time.   
Tuesday came with a little rain in the forecast. It was our last day in Flagler Beach, and we both regretted leaving.   We had another spot booked a couple hours down near Cocoa Beach for two nights.  After a wonderful run along the coast, we packed up and headed south.  
That afternoon, we planned a special Valentine's Day meal, and headed to a fish market. We bought a pound of fresh tuna, seaweed salad, spicy salmon rolls, and some other snack goodies.  After shopping, we ended up on what we called RV Island.  The campground is actually named Long Point, but is built on a small island.  We were lucky to get one of the last spots available.  The weather was absolutely perfect, sunny, with a delicious breeze floating off the bay. Matt had a lot of work to do, so we took it easy for the rest of the day just exploring the island.  While walking Fred around, a nice man offered us the freshest sashimi you can get. He had just caught and was filleting some skipjack tuna, saw us walking by, interested in all of the birds begging for scraps, and we got to talking.  The fish was melt in your mouth luxurious, and got us excited for our Valentine's day lunch the next day.
Wednesday morning (Feb 14th), it was a bit overcast, but still warm enough to walk around in shorts and a T-shirt.  Matt and I, sans Fred, rode our bikes to the beach.  The water was warm! We were finally south enough for the crystal clear aquamarine waters.
After about an hour's morning beach lounge, we headed back to camp and pumped up our paddle boards.  We took our boards all the way out to another small secluded island where we found a number of Horseshoe Crabs.  At first, we had no idea what these prehistoric looking creatures were, but, thanks to many responses on Instagram, we now know.  Matt flipped a few over that seemed to be stuck. The crustaceans happily crawled back to the water. Quite a few were mating in the small waves splashing on the sand.  Being Valentine's Day, one could say it was romantic, if in a National Geographic kind of way.
This was the first time Fred seemed to be enjoying himself on our boards. He just sat there, letting the paddle take him where it may.
After our paddle and singing the Gilligan's Island theme song an obnoxious amount of times, we had lunch and mimosas.  It was a perfect Valentine's Day with my two main sqeezers.  I hope your day was filled with as much love and happiness as ours.
On Thursday, Fred and I did some more exploring of the small Scout Island.  The island is connected to Long Point by a high bridge. Fred LOVED that island. All the smells must have been quite intoxicating to him.
That afternoon, it was time to say goodbye to our little island.  We headed farther south to Savannas Recreation Area, another terrific Florida campground where we somehow snagged the last available spot.  We didn't realize it was President's Day weekend, and were nervous about finding one.
On Friday, we drove to Walton Rocks Dog Beach.  According to the old googling machine, it's the only off-leash dog beach in FL.  This beach was nothing short of spectacular, and so so entertaining. Dogs are just the best. Even shy Fred tried playing with a few of the smaller pups.  We spent the entire day lounging, beach walking, and dog watching. It was perfect.
Savannas Rec area had a very nice bike/walking path connected to it.  After a Saturday morning run and shower, we packed up and checked out of our site.  We decided to spend the day at the doggo beach again.  We were also in need of some free camping to make up for all of the high-season camping costs.  It's still funny to us that we didn't realize at all winter in FL is the high season. We were so used to being practically alone in the colder states.  Weather is a constant lesson.
We spent the day at Walton Rocks, then headed to a nearby truck stop that allowed overnight parking.  It wasn't glamorous, but we slept well and it was free!  We've learned there aren't really any free spots along the coast.  Other than a few parking lots we've found, we're going to have to go more inland if we want to keep our budget.  That being said, after our first visit to the gym in a week, we headed inland on Sunday morning to a free spot called Dupuis Campground.
The campground is near Lake Okechobee, with a very nice host, an equestrian campground and non equestrian side. I've really enjoyed watching the horses, but there isn't much to do for activities if you don't have one here.  Fred thinks he's a horse, though, and struts his stuff around them like a show pony.
Today, we're enjoying the nice breeze, and getting a little work done. We may end up heading the giant fresh water Lake Okechobee and going for a paddle.   I'll let you know next week!
Check out some more photos of the last couple of weeks below.
Xoxo
Ariel + Matt