LIVIN' ON STILTS
Oct 30
Matt came home around 5:30p Monday evening, and it was a very happy reunion.  Poor Matt came back a little sick, so we had dinner and went to bed early.  Tuesday, we took a short trail to the beach, where Matt worked a few hours while I packed up the camper for our next spot.  We planned on heading to Astoria in Oregon that day, but it felt premature to leave Washington.  So, we scratched that plan and headed to Sammamish lake.   The only affordable spot on the lake was fully booked. We ended up heading back to Snoqualmie to the Snoqualmie Casino for a free night.  Yet another casino we didn't go into. Neither of us are big gamblers, but we thought about it.
I'm so glad we stayed. The next day we went to the gym and then headed to Seattle. We met my old boss and friend, Kesshann, for lunch. He gave us a tour of his super sweet office a block above Pikes Place. Its such a great location and he seems very happy there.  He even gave us some Freeride Entertainment swag, and I LOVE swag.  We had sushi for lunch. Both Matt and I were dying for some good sushi. It's been a while since we've had it and it was perfect.  It was so great to see Kesshann. I really missed him. We had a long lunch, catching each other up on all the latest happenings in our lives.  Kesshann living here with his family is just another point in Washington's favor.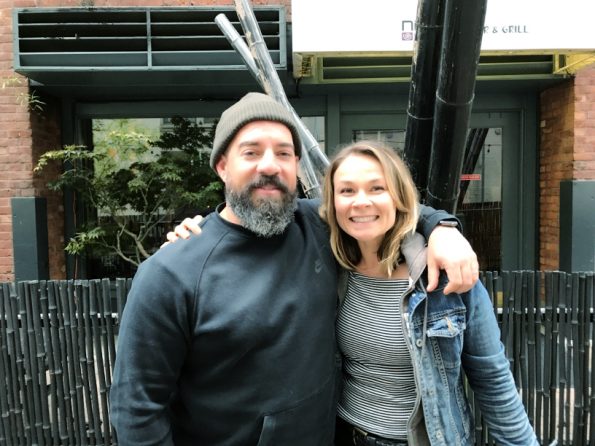 After lunch, we took the ferry to Bainbridge Island. It was so fun driving the camper on to the ferry and taking it the short trip to the island. The one-way ticket was about $23, saved us a lot of time, and allowed us to save some money on gas.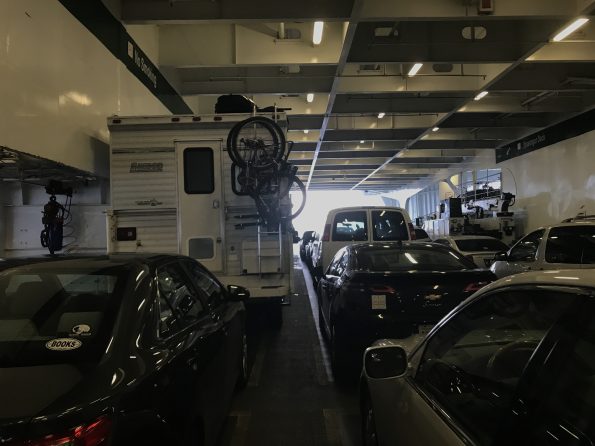 Bainbridge Island was spectacular.  We fell in love so fast just on the short drive to the Fay Bainbridge State Park.  The campground was steps from the water on a grassy area built right at the beach.  Fay Bainbridge SP had flush toilets and a token shower.  Water and electric sites were $40/night, just water $30/night and tent spots were $20/night. The tent spots were pretty deep into the grass area, so not something we could use. We ended up taking a $30/night spot. Although expensive, the campground was totally worth it. I mean, just stunning views and the weather was perfect.  We did a little exploring of the island on Thursday, checked out the adorable town and got some FroYo.  We ended up staying a second night there. It was just too good to leave.  At night, we could see Seattle glowing across the Sound.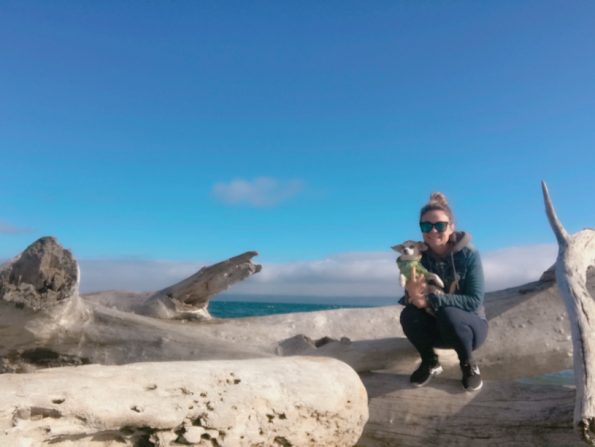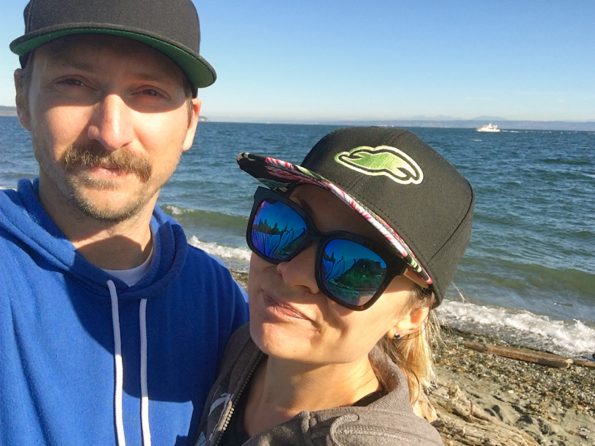 On Friday, we packed up and headed to a county campground in Bruceport.  We took a $20 spot right on the edge of a tree covered cliff with the ocean below. The sunset was something else.  We sat at our site soaking in the fiery skies in awe of our surroundings. The campground had flush toilets and coin operated showers. The hosts were very nice and the campground itself pretty empty.  Saturday morning, we did a small half-mile trail with our coffees down to the beach.  Not the type of beaches I'm used to in SoCal, but it was beautiful in it's own way. Fred had a blast running around. 
After packing up, we headed to Cape Disappointment.   On the drive there we were graced with gorgeous blue skies, and weather in the high 60s.   A thick fog rolled over about a mile from our destination. It was so intense we could barely see the ocean that sat just about 50 feet below us.  Matt and I did the small trail to the lighthouse.  The surrounding fog gave the old lighthouse an eerie feel, perfect for the halloween weekend.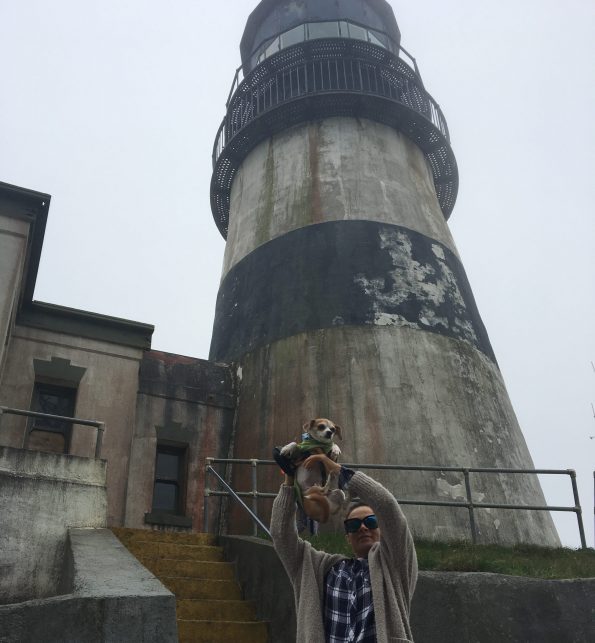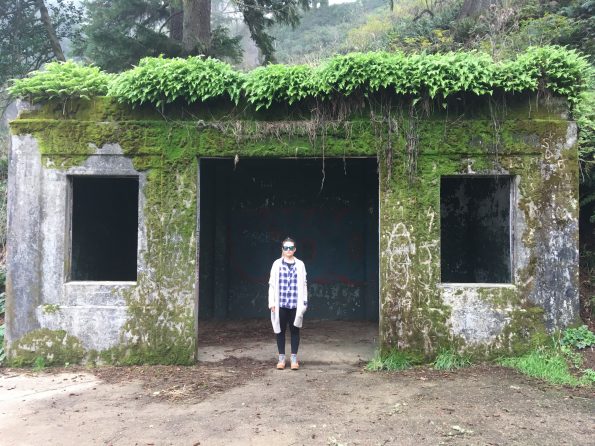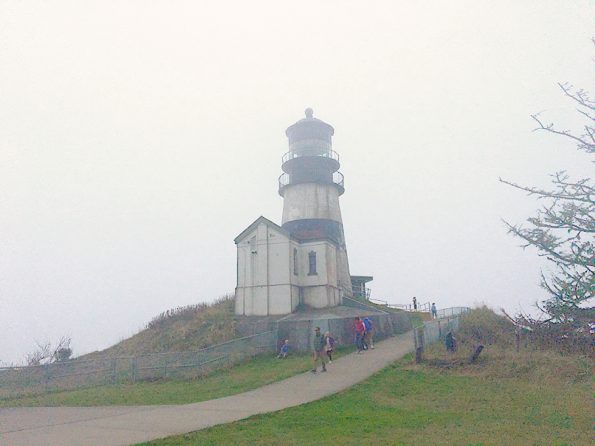 That afternoon, Matt took us up an insanely steep road. I white knuckled the entire way up until we found a small lake and a few camping spots. The small lake was properly called Snag Lake.  Not only was the area deserted, but we had service.  We also found an easier way out, which was a huge relief to me. I did not want to go down that road again.  It ended up being such an awesome spot for a perfect weekend. In some very exciting news, and probably the most significant detail of this week, Matt caught a fish! He played around with his fly fishing again and actually snagged a rainbow trout.
We stayed at Snag lake Saturday and Sunday night, giving us a couple more free nights for October.  We're now averaging around $500/month campground cost, which is pretty damn good.  Not sure how the coast is going to treat us nightly cost-wise, especially as we head into California.  I won't change our goal of $700/month just yet, but so far, we're very under budget. Nothing gets me going like coming in under budget.
We headed out Monday morning to finally cross over into Oregon. Washington is my favorite right now, but crossing to Oregon means I'm that much closer to snuggling my nieces and Cruiser again.  Desperate for a shower, we found a gym in a small town called Clatskanie.  We both got in a good workout but then realized we needed to find some reliable internet for Matt to work.  The closest Starbucks was in Longview just on the other side of the Columbia River. Back to Washington we went! I couldn't stay away even a few hours.  After getting some work done, we'll be heading back to Clatskanie for the night at a county park for $10/night. Hopefully it works out!
Miss you all so much. I'm sorry I haven't sent thank you cards yet. I will. I promise. I'm terribly distracted at the moment.
Xoxoxo
Ariel + Matt
HIGHLIGHTS:
Matt came home after a long weekend in Paso Robles for a friend's wedding.  Spent a free night at the Snoqualmie Casino. Didn't gamble but got a good night's rest. Had lunch with my old Paperboy boss, Kesshann in Seattle. Took the ferry to Bainbridge Island where we camped on the beach for a couple of nights. Did some exploring of the town. Bainbridge Island is amazing. Stayed one night in Bruceport at a county campground.  Visited Cape Disappointment and was not disappointed. The lighthouse trail was very fun despite the area being totally fogged out with low visibility.  Drove up a crazy steep forest road to Snag Lake, and spent two nights there.  Headed to Oregon Monday, but not before heading back into Washington for Starbucks wifi.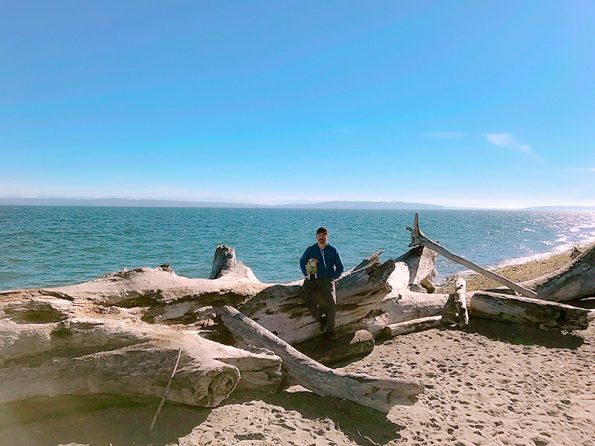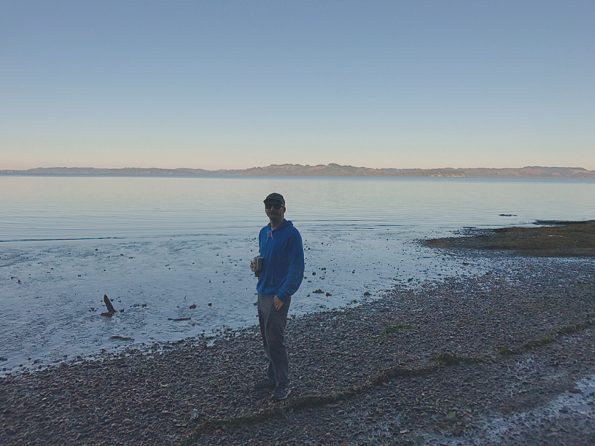 ROAD LESSONS:

It's really hard keeping the camper dry in the PNW rainforest, especially when its raining or cold out.

 

I know we need to air it out, but its not practical to open up our vents when its pouring out. I ended up disinfecting a lot of the camper to fight any mold, but please send recommendations if you have them.

 

Thankfully it's getting warmer, and we'll have a good amount of time to soak up the sun.