LIVIN' ON STILTS
October 23
Monday morning, we woke up in the stale cigarette smelling parking lot of Walmart in Aberdeen, WA.  It was pretty late by the time we got into town, and our bathroom faucet broke.  We had to turn the water pump off completely, as there isn't a way to just turn off the flow to that sink.  Getting a new faucet was a priority, but Matt also had to work. I thought I found one at Home Depot but it didn't end up being the right type. Matt found the only RV repair place nearby, so we ended up spending around $50 on a new faucet.  Not ideal, but we were in a jam.  Since Matt had a lot of work to do, I ended up changing the faucet.  I had to keep bugging Matt for help, but I did it! We now have a brand new bathroom faucet with brass valves.  Not sure exactly what that means to the faucet, but at least we can use the water now!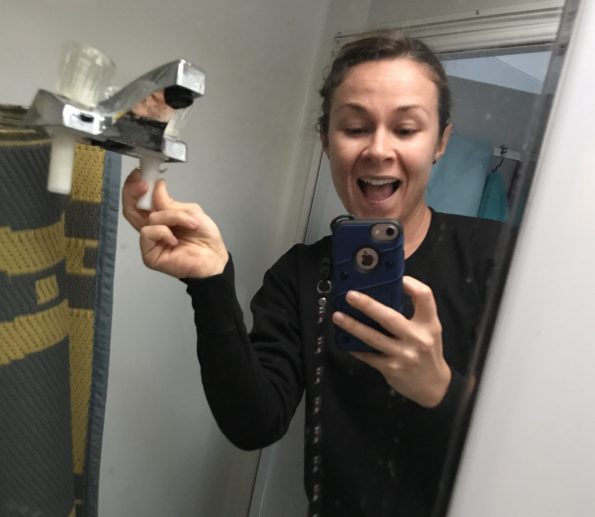 The weather was pretty terrible.  Rain pounded the camper with crazy winds blowing us from side to side.  We headed to the coast, hoping to spend a free night at Quinalt Casino and Beach Resort.  The resort was about 30 minutes from Aberdeen.  They have a huge lot for RVs.  The only amenity is a dumpster, but its free, and all you have to do is register with the front desk.  Unfortunately, the wind and rain were so intense, we couldn't even see the ocean.  Not only that, but our camper was swaying so violently, there was no way either of us were going to get any sleep.  We were there maybe 30 minutes before heading back to Aberdeen.  It was still raining in Aberdeen, but we were much more shielded from the wind.  Another night at the sleazy Aberdeen Walmart was our best option.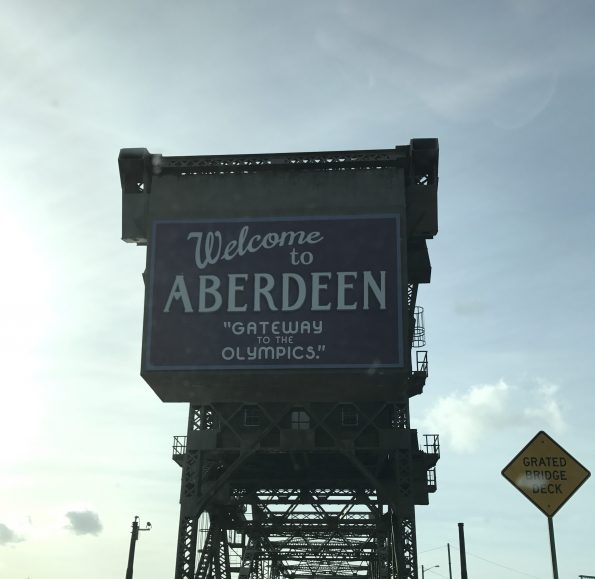 Aberdeen was kind of gross. We did meet a few really nice people, but the town was major blah. The Walmart sure was poppin off, though, with just about every customer wearing the lingering scent of cigarettes and mold.  I now understand Kurt Cobain's angst.
I've never been a huge fan of Nirvana or the band's frontman. Growing up with my 80s hairband rockstar of a dad made me turn my nose up to most grunge in general. Although I thank Nirvana for giving us the amazing Dave Grohl, we didn't go out of our way to see his childhood home or memorial.
Matt was pretty hungry after working all day, so I had this bright idea to get a pizza.  We went to Papa Murphy's that was just across the street.  I'd never been there before, but it had good reviews.  On the way over, it looked like Papa Murphy's only made raw pizzas to go that your'e supposed to cook at home.   I waited in the truck while Matt ran in to see what the deal was.   He asked if they can bake it for him, the clerk said yes, so he ordered a large.   About 10 minutes later, he ran out with a raw pizza wrapped in plastic wrap. We were both super confused. I read the directions but I was confused about the paper plate the pizza came on. Not only that, I don't own a cooking pan, nor did I think the large pizza could even fit in our small but awesome oven. I can't really process dairy, so I wasn't eating it, but poor Matt was really looking forward to it. So, I did what felt like the smartest thing possible and turned the pizza into a calzone and pan fried it.  Matt, bless his heart, ate most of it and said it wasn't terrible.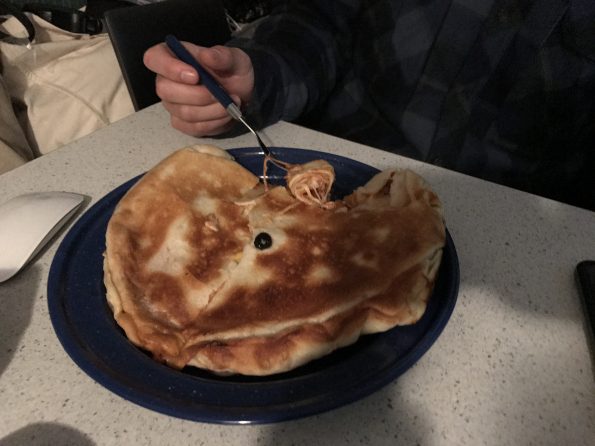 We got to our campground in Dash Point SP about an hour before Matt had to leave for SeaTac.   He made sure I was all set up for my four days alone, and then he was gone. I can't believe he left his wife on our honeymoon!  Totally kidding, but I was very sorry to see him go.  Fred and I had a pretty romantic weekend. On Friday, I took an Uber to the gym.  While I was running, the touchscreen on my phone stopped working. I finished my run and used Siri to text Matt.  He helped me figure out how to restart it with the buttons, since there was no way to do anything that had to do with the screen.  I was pretty worried about how I'd get back to the campground, but it all worked out.  It was a nice Friday afternoon when I got back, so I took Fred on a nice walk down to the beach.  That night, the rain came back with ferocity. It was hard enough to sleep without Matt but the loud pelting rain on our metal roof was loud enough to keep me up most of the night.  I woke up super early to the roof hatch above our bed dripping with condensation. I cut up an old towel and used packing tape to secure it around the metal.  It seemed to work, but looks ridiculous.  Since I'm plugged in, I've been using our electric heater to dry things out and keep us nice and toasty.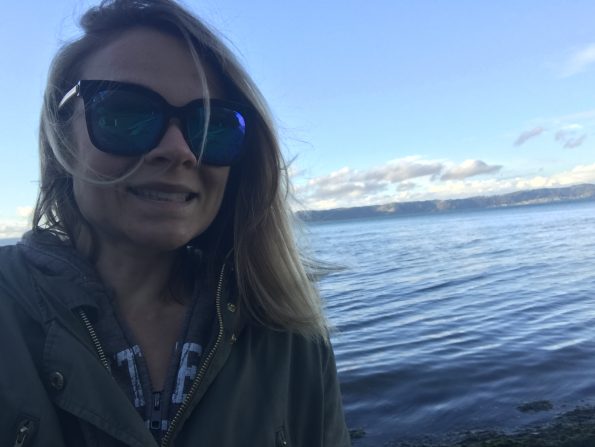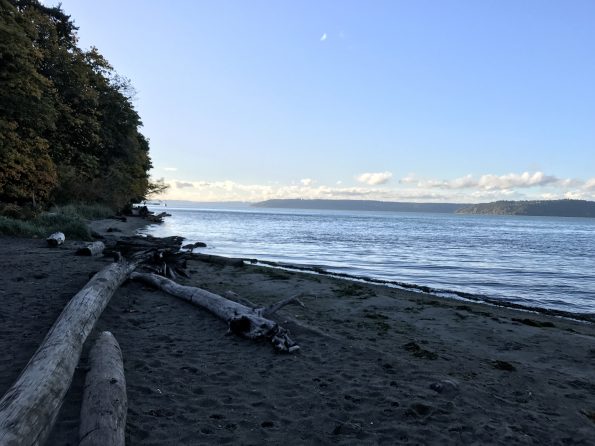 I made plans with my gorgeous friends Karli and Jennie for Saturday.  Jennie, her husband Joe, and her two adorable daughters picked me up. We met Karli and her beautiful son, Odin, in Seattle at Pikes Pub.  After a couple of beers, some food, and a lot of laughs, we headed to the Aquarium.  The Seattle Aquarium is $30 a ticket for adults! I don't remember how much tickets were the last time I went to an aquarium but that seemed super expensive. 
I ran around with the kids, checking out all of the interesting marine life.  The best was the touch pools, where you can touch anemones, star fish, and other sea critters.  It was so fun hanging with Odin and Julena, running around like the fun aunt, then passing the kids off when they needed a diaper change. I wish we could have all hung out at the beach in Dash Point, but the rain boned us. Still, the pub and aquarium were really fun, and the company was even better. 
It was raining pretty hard again that night but finally let up in the early morning.  I woke up to a gorgeous Sunday, with blue skies and sun shining.  Fred and I did a fun little hike around Dash Point and ended up at the beach again. There are a lot of small interconnecting hikes in the area, so it was fun to create our own loop, with wood bridges and a creek nearby.  The tide was super low, so we had a lot more beach to explore.  I read an entire book and just relaxed on this almost perfect Sunday afternoon.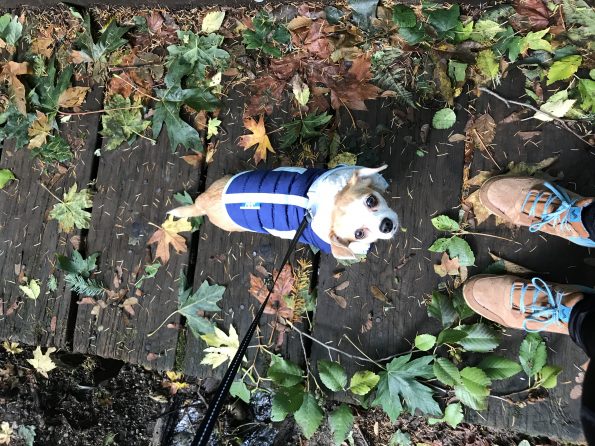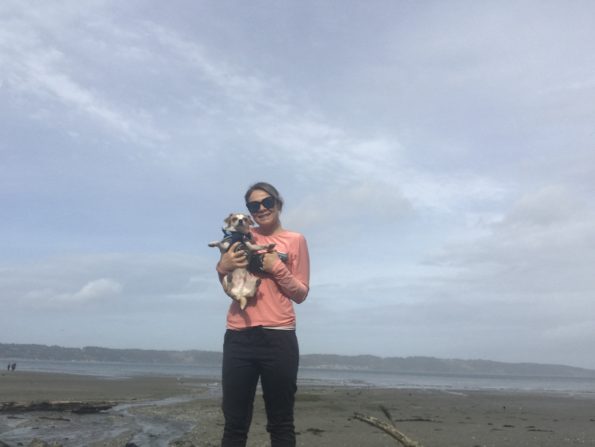 Matt had a great time at the wedding. It was wonderful to get to see some of our friends again. Russell picked him up from the airport and they headed to Paso Robles the next day.  Congratulations to the happy couple, Bri and Kevin!  We're so happy for them, and I'm sorry I had to miss their special day.  Matt is on his flight home as I write this. I can't wait to see my husband again. Even though it's only been a few days, I miss him and his mustacheo face.
Please excuse any typos. I didn't read this twice. I'll leave you with the cutest little crack I've ever seen.
XOXO
Ariel + Matt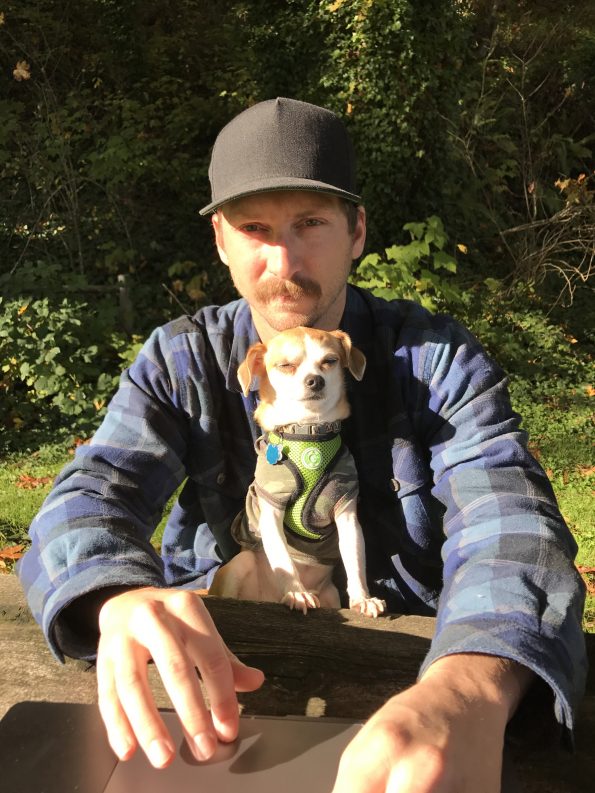 HIGHLIGHTS:
I'm clearly too lazy. Skim the post.
ROAD LESSONS:
My smart and beautiful friend Jennie let us know that Sequim is pronounced "SKWIM".

 

Washington and Canada have so many Native American names. It's interesting trying to learn proper pronunciations.

People make fun of Californians ability (or lack there of) to drive in the rain. Well, I learned that no one knows how to drive in the rain, even in Seattle. Rain is scary, and people are dumb.

When in a gross town, such as Aberdeen, the Walmart parking lot is probably worse. Don't sleep there.