LIVIN' ON STILTS
Oct 16
Hola. Yo soy Ariel. Mucho Gusto!
I'm learning Spanish on the road.  The above was my first lesson as an Absolute Beginner. I know, I know…you're thinking "what can't she do?"  Don't be intimidated by my aptitude to learn another language in such a short time.
Any who, Matt and I ended up staying in the free spot near the McClellan Butte hike on Monday night.  The spot was wonderful, snuggled in the lush PNW rainforest near the Spokane River.  Tuesday, Matt and I headed to Snoqualmie to do some laundry and visit the Snoqualmie Falls.  I was a little skeptical of the falls after our visit to the Nine Mile Falls, which turned out to just be a dam.  Although Snoqualmie Falls is a dam, the falls were huge and spectacular.  The mist coming off the falls enveloped the area in an eerie cloud, sparkling as the sun peeked through the haze.  There is an underground power plant at the falls, built in the 1890s, and still functioning today. 
After some major laundry and work, we headed to Dash Point State Park.  We stayed one night at Dash Point SP testing it out as my potential home for five nights while Matt takes off back home for a friend's wedding.   The area is very pretty, with a beach across the street, and shops and restaurants just a bike ride away.  I booked my spot and am very excited about some of my Washington friends coming by that weekend for a girls visit.
Wednesday, Matt and I hung out at a Starbucks all day so he could get a bunch of work done. We ended up driving to Sequim Bay SP, about two hours drive from Dash Point.  Unfortunately, it was 8:30pm and the gates to the park were closed.  We found a Walmart a few miles away in the town of Sequim, and ended up sleeping there instead.  After some work Thursday morning, we made our way to the campground, finding a lovely spot backed up to the edge of Sequim Bay.  It was so nice to be near the ocean again. 
Our first night at Sequim Bay SP, we paid for a premium spot for $30/night.  It was dry camping, so no hookups, but the bathrooms were very nice and the campground pretty empty.  Fred and I walked down to the water and took way too many pictures of this perfectly posed seagull on a post.   Sequim Bay is very calm, with Canada just a ferry ride away.  In the afternoon, Fred and I walked a bit of the Olympic Discovery Trail. The Olympic Discovery Trail is a designated non-motorized, multi-use trail that goes across the north end of the Olympic Peninsula in Washington. The route spans around 140 miles between Port Townsend, Washington and La Push, Washington.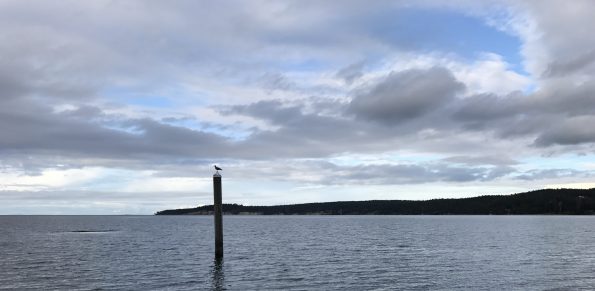 The next day, Matt and I reserved a spot slightly farther from the water, making it $25/night.  We drove into town to an Anytime Fitness and both signed up for gym memberships.  Anytime Fitness has 3,000 gyms worldwide, and we have access to all of them.  Now, we can keep up some sort of work out routine and, most importantly, take clean hot showers when we need them.  Anytime Fitness gyms are on the smaller side, but the locations we've seen so far are very clean with friendly staff.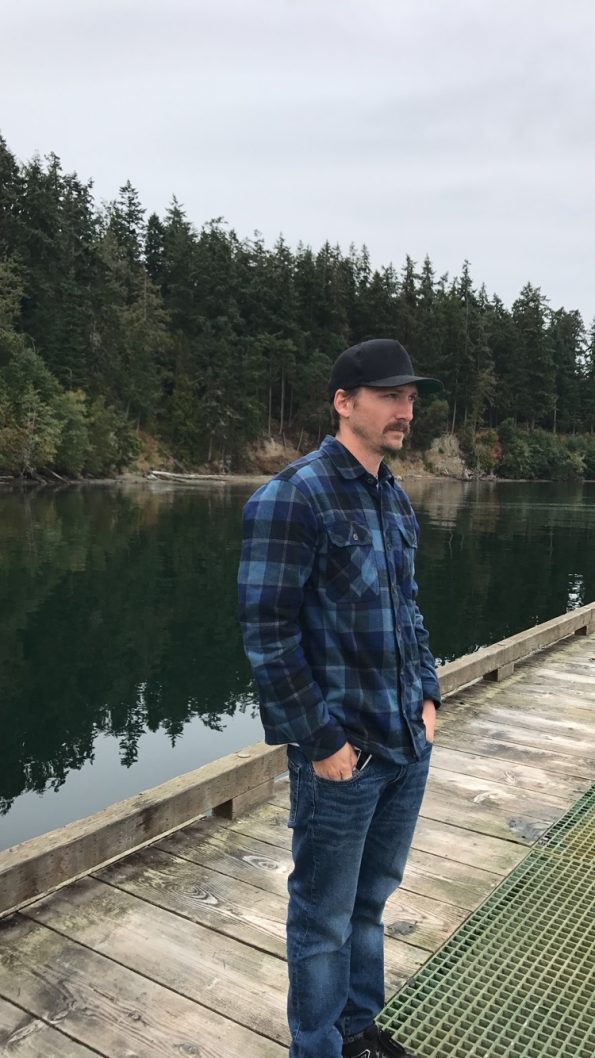 We quickly learned while exploring Sequim that the average citizen is well above retirement age.  I read this really funny article online that said something about how Sequim just celebrated 100 years, about 10 years older than it's average resident.  Oh, and it was Friday the 13th, which means nothing to me.  This IS week 13, though, so I want to tell you we did not cross any black cats, or howl at the moon.
On Saturday, Matt and I walked a short trail down by the water before packing up and heading past Port Angeles to a free campground at Lyre River.  We found a spot steps from the water, with a platform built for steelhead fishing.  Lyre River was originally named what translates into "singing waters" by the Natives that lived near it.  It was later renamed Lyre River after the instrument, keeping within its melodical theme.
Another free night under our belt, we headed back to Port Angeles and into the Olympic National park in search of some hot springs Sunday morning.  The hot springs didn't quite pan out as we learned the road to the trailhead wasn't safe for recreational vehicles. Since the camper is our home for the next year or so, we didn't want to risk anything happening to it or our possessions inside.  We instead turned back to Port Angeles, fueled up and headed to Cape Flattery at Neah Bay.
On our way to Neah Bay, we found out Port Angeles and Sequim sure were a couple of silly towns full of jokesters. Our first silly sighting was of a street called Kitchen-Dick. Interested in the origin, I looked up how on Earth the street came to be named Kitchen-Dick. According to an online article, the street was named after Sequim Pioneer families who lived on either end of the street. Kitchen and Dick decided to combine their names in naming the road. Now I ask myself, why in that order? Why not go alphabetically with Dick-Kitchen? It really does have a nice ring to it, although maybe naming the street alphabetically could have changed the course of the town.  Other silly sightings, like the "Wife Wanted" sign and the impossibly tall mailbox marked "air mail" made Matt and I giggle the entire drive past Port Angeles.
Neah Bay was about a two hour drive on a windy road from there. My kitty-face spoon rest that was my grandmas ended up breaking on the way.  Poor kitty.  Matt and I hiked down to the spectacular view points of Cape Flattery, staring straight across the peninsula to Vancouver Island.  The trail down was slightly steep with a boardwalk built closer toward the many view points at the end.  The rainforest, as its so aptly named, was very wet. I ended up slipping and landing on my bum, leaving me with a precarious looking muddy smudge on my pants.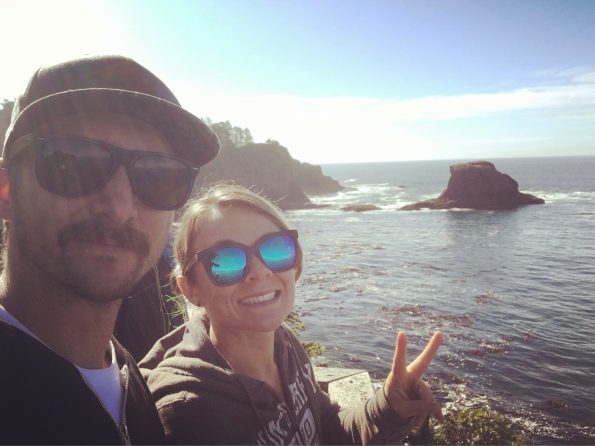 The coastline at this point in the North Olympic Peninsula is primarily sandstone.  It's receded greatly over the last thousand years, leaving the area with these spectacular small islands, broken rocks and caves with water crashing all around.  The water was pretty calm in this area, but we did find a few surfers out in the water on our drive to Neah Bay riding some small waves.  That water looked ice freaking cold. No thank you!
Last stop on our Sunday driving tour was at Forks, WA before finding our next campground.  I learned Twilight was filmed there, which is pretty exciting for anyone that was into the franchise. It was never my thing, but I will leave you with this – TEAM EDWARD!!!!!
XOXO
Ariel + Matt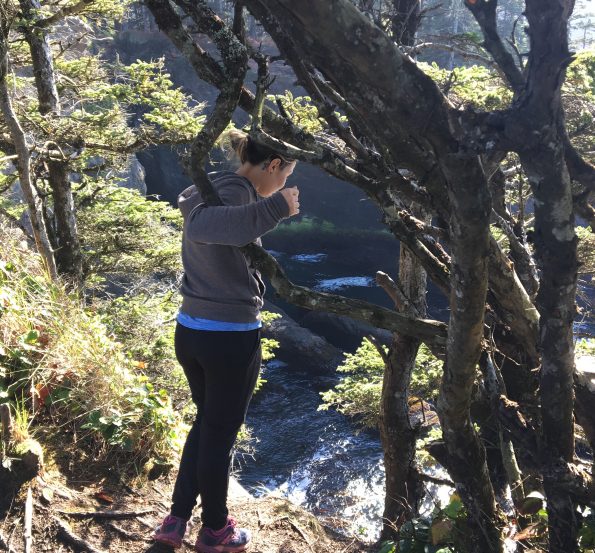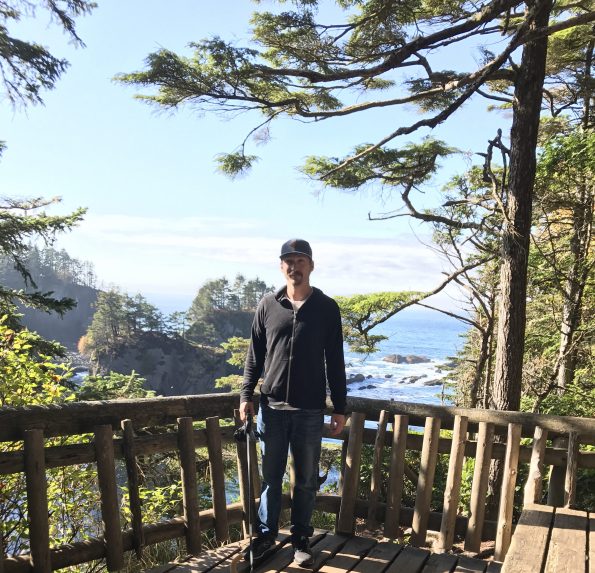 HIGHLIGHTS:
Spent one more night at the boondock spot near the McClellan Butte Trailhead. Drove through Snoqualmie and checked out the falls. Stayed one night at Dash Point SP before heading northwest to Sequim Bay.  Stayed 2 nights at Sequim Bay SP, got a gym membership, did a little hiking and exploring of Olympic Discovery Trail.  Drove through Port Angeles, failed getting to hot springs in Olympic NP.  Camped at Lyre River, a free spot nestled in the rainforest. Visited Neah Bay and Cape Flattery in the North Olympic Peninsula.  Drove through Forks, where Twilight was filmed. Team Edward.
ROAD LESSONS:
I thought we got the hang of our things shifting in the camper, but one super windy road broke my spoon rest. Keep securing things! Don't forget your list, even when in a hurry.
Anytime Fitness is a great option for anyone who travels often, and, either hates hotel gyms or doesn't have access to them.  They even have wifi!
Although buying in bulk is a no-go, always have a back up bag of coffee. I'd hate to see what would happen if I ran out one day.