LIVIN' ON STILTS
Nov 6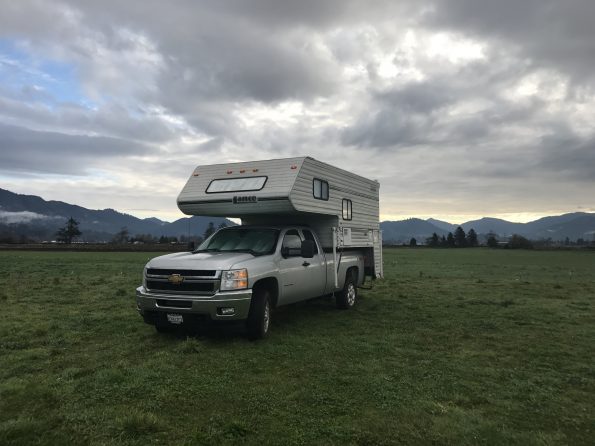 Clatskanie did not work out. We drove over to the city park, and it was kind of just a regular old park with a baseball field and a gravel lot you can park on in the middle of the small town.  Not really our scene, but I would have considered staying there if the park hadn't just raised their price to $20/night.  It was totally not worth it.  After that fail, we headed up another forest road to a campground hidden away in the forest.   Gnat Creek Campground was in Clatsop County, about a 20 minute drive from Clatskanie.  It was only $10, with pit toilets, a fish hatchery across the highway and a trail head for Gnat Creek Trail.  The campground isn't really suitable for anything other than a tent, but we got lucky and snatched the only spot with enough room to park the camper.  It rained that night, but we were decently protected from the winds nestled in the trees like we were.  There was a very pretty creek, and although we didn't do the trail, we did get to do some exploring of the area before hiding away in the relatively dry shelter of our camper. 
Tuesday, we headed back into town so Matt could get some work done and I could go to the gym there.  The gym was much smaller than the other locations but it had everything I needed.  After a nice warm shower, we headed back toward the coast, ready to relax around the stunning Oregon beaches.  Our first stop along the Oregon coast was Fort Stevens State Park. Fort Stevens SP was enormous! They had around six or seven large loops, most of them with full or partial hook ups, cabins and yurts available. We planned on taking a tent spot as the less expensive option, but the State Park doesn't allow RVs in those. I wasn't too bummed about it. Even though the partial hook up spots were pricier at $30/night, that meant I could plug in our heater and be toasty for the next couple of nights. We paid for two nights and took our spot.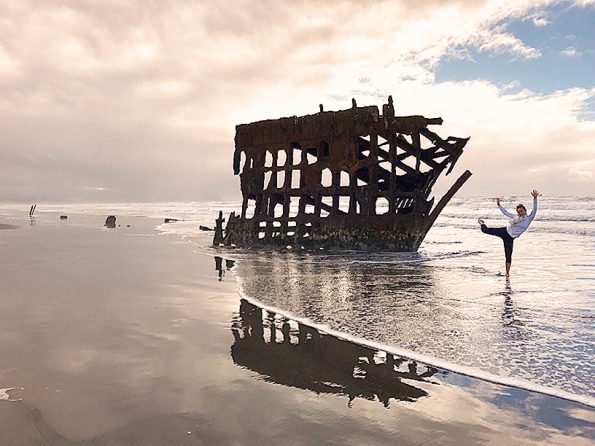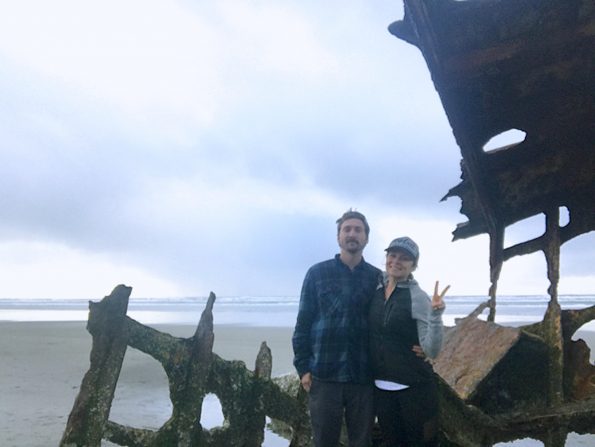 Fort Stevens SP has several paved walking paths you can also bike on.  The next morning, we took our bikes out and rode the mile to the beach.  Fred was strapped to Matt's back. He didn't seem to enjoy it as much as we did.
It was such a gorgeous day, although there was a chilly wind blowing through, we couldn't have been happier. Fred could not contain his excitement doing hot laps on the sand. I also took my shoes off and ran around with him. The water was bitingly cold, but I didn't care. I needed to feel that Pacific Ocean goodness on my toes again.  And the best part about this huge beach was the fascinating ship wreck jutting out of the sand. The ship wreck was around 100 years old. Only rusted metal is left of the frame.  Probably the stupidest place for me to be running around barefoot but I did get a tetanus shot before Thailand, so I risked it.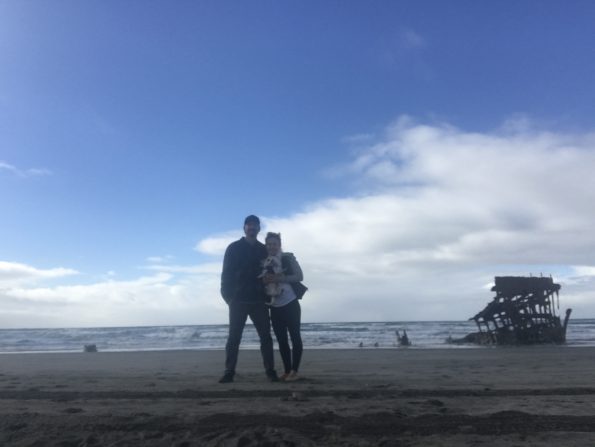 We had such a good time at the beach, we decided to take the camper there and hang out for the rest of the day.  You can drive your car right on to the sand there.  I felt so inspired, I even did a four mile run down the shoreline. Matt was working, but if you have to be stuck working, might as well be at the beach! Wednesday was a damn good day. So good, in fact, that we booked a 3rd night there. 
Thursday was much colder, with extreme winds that practically blew my little dog away. He was like a kite on his leash, blowing in the wind. Glad I didn't get him stuck in a tree.  We took the camper up the road that afternoon to a small laundromat. After finishing my chores, we headed back to camp to relax. 
We slept in and slowly packed up Friday morning. I wasn't anxious to leave this perfect place.  We tried to do some more site seeing in the area, but it was so wet and windy, I barely left the truck.  Matt got a few great shots of this jetty, though.  Came back soaked but he got the shot!
We headed to Nehalem Bay SP, that afternoon.  On our way there, we stopped at Cannon Beach to check out Haystack Rock.  The little beach town was so cute and made for tourism. The town even had a small public parking lot with specified RV spaces.  I, once again, shed my shoes and took the beach barefoot.  It was sooooo cold on my poor toes, but shoes are the worst and I didn't care.  Haystack Rock is this massive rock formation, or piece of land that stubbornly clung to its place, not allowing the ocean to wash it away with the rest of the long stretch of sand.  With the sun just peeking through the clouds, it was a very beautiful scene. The beach was surprisingly packed with tourists like us. I can't imagine how busy it must be during the summer season.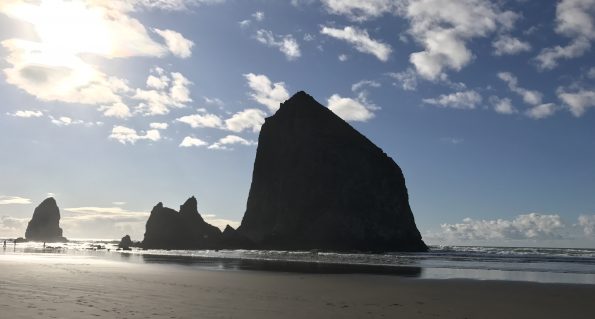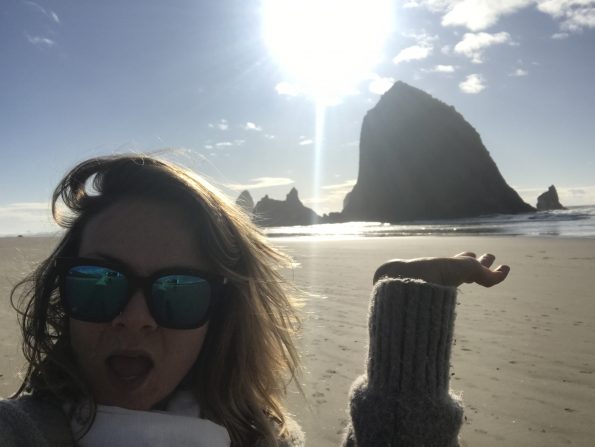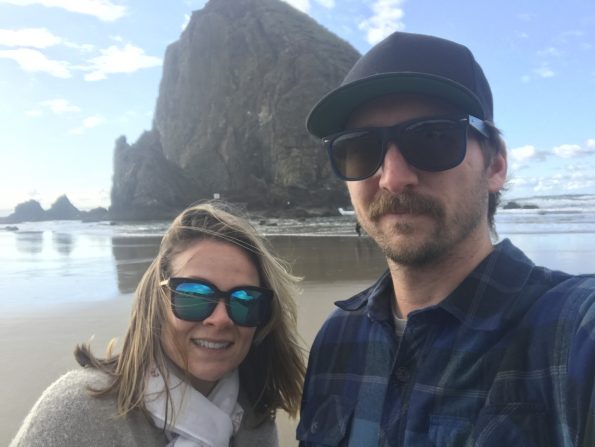 Nahalem Bay SP was only around 20 minutes from Cannon Beach in Manzanita, OR.  The campground itself was pretty deserted.  We took another partial hook up spot for $31/night. We backed into our spot near the beach and I immediately booked two nights, rather than our initial plan of just one.  We were gifted with the most spectacular sunset.  I can't describe the fiery orange and magentas illuminating the skies.  Forgoing my shoes, we sat on a pretty log and watched the sun go down.  The sand was so fine and sticky, rather than put my shoes back, Matt carried me like a fireman back to our site.   It felt very 50's newlyweds to be carried like that over the threshold of our new home. Bit of an exaggeration, since he didn't actually carry me into the camper.  Although, I was deposited near by.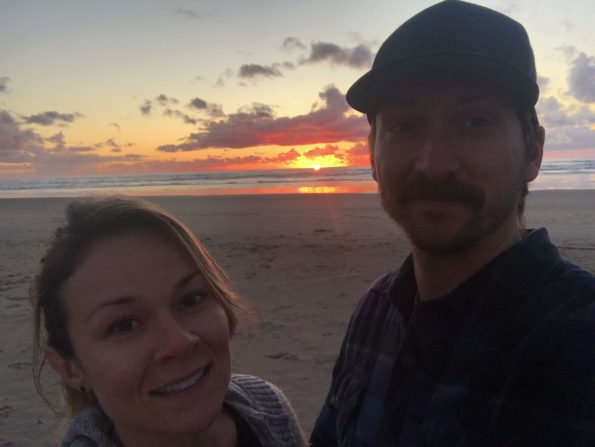 The next day, we waited for the skies to clear before heading, and headed out for a run on the beach.  It was so beautiful, I can't imagine running on a treadmill ever again. I will admit, my calves were so sore, and still are now.  Running in sand is no joke.  Since it was Saturday, we had a nice lazy day, enjoying the beach and our pretty campground.  Fred had another riot on the beach, doing berm rips up the small dunes or crashing through the tall sea grass.  I think if Fred got a vote, he'd vote for us to move to one of these beaches.
We begrudgingly packed the camper and left Nahalem Bay early Sunday afternoon.  It rained crazy hard the night before, but the skies were clearing once again for a beautiful day.  We drove into Tillamook, and headed straight for the cheese factory.  I popped a lactade, and got ready for some cheese. We ended up sampling a few, but were both disappointed by what the visitor center turned out to be. I thought we'd be able to see some cows, or even get to walk through the cheese manufacturing process.  Tillamook Visitor Center ended up being an extra large gift shop with a big ice cream stand in the middle. I bought a pair of cow socks, because how could I not? And then we were off to the Blue Heron Farm.  This farm lets RVs stay for free on their large grass area above the shop.  Matt and I shared a wine tasting, bought a jar of the best mustard I've ever tasted, and a bag of feed for the goats!  I love farm animals and goats are just hilarious.  There was one pretty aggressive goat and another that had some mean looking teeth, but all of them were gentle and just wanted to slobber up the oats I palmed to them.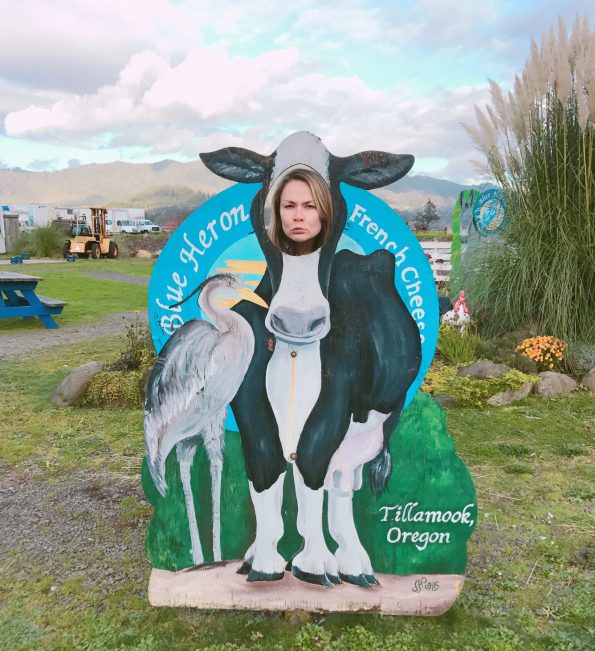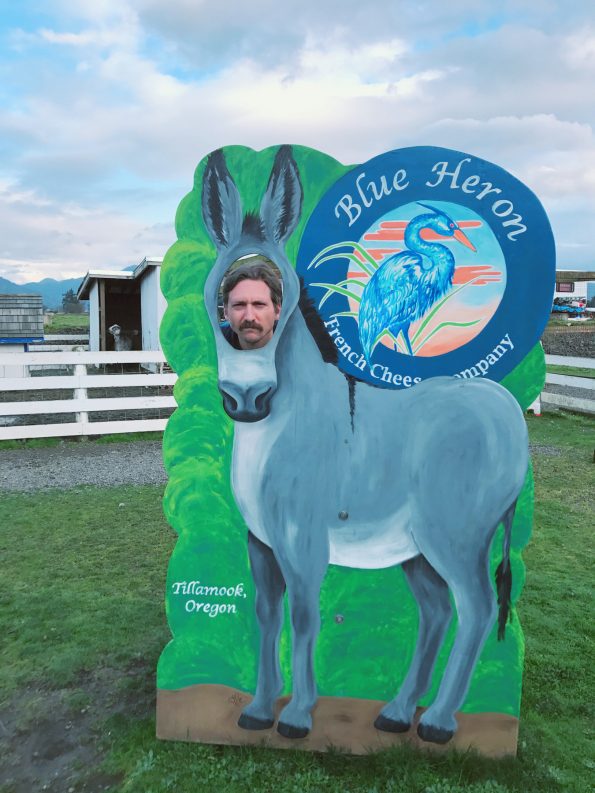 We took advantage of the free night.  Not only does it help our average campground budget, but I slept great on that farm. Monday morning, the sun climbed over the hill like a beacon of beauty bringing on the new day.  I'm surprised the roosters didn't wake us up first. 
We headed to Cape Lookout SP.  Another sleepy campground thats sure to be packed during the summer.  We're steps from the beach, although there is a lot less of it to walk around. This campground does allow RVs in tent spots, so we scored a spot for $21/night.  I was hoping to take the Cape Lookout Trail our to, well, Cape Lookout, but we're about two and a half miles off. Instead, I took the North Trail today. It's about five miles round trip, and fairly easy with some difficult spots.  There's a junction that meets up with my originally intended trail, but I had Fred with me, and didn't think I should make it a 10 mile day. I had to carry him up a really steep and rocky water portion with a water fall next to it.  I did get rewarded with some stunning beach views.  The path was very slippery and I fell on my butt again. Need to pay better attention, but the views were just too good!  By the time we made it back to camp, the sun was shining again with blue skies and puffy clouds.  With the tide a bit lower than the morning, Fred got his beach fix in again, doing hot laps around the sand.  We plan on just one night here, but I've been known to stretch things in the past.  I am anxious to get to Silver Falls SP, so I might just stick with our 1-night plan.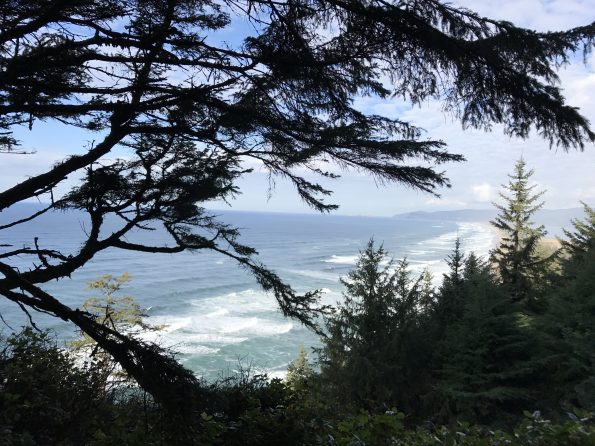 xoxo
Ariel + Matt
HIGHLIGHTS:
Camped deep into a forest road called Gnat Creek. Continued along the Oregon coast to Fort Stevens SP. Spent 3 nights there and enjoyed the gorgeous beach and shipwreck. Stopped by Haystack Rock in Cannon Beach on Thursday. Spent 2 nights at Nehalem Bay SP. Another gorgeous beach.  Visited the Tillamook and Blue Heron shops. Tillamook shop was lame, but the Blue Heron had a petting zoo, delicious food and wine, and a free place for us to spend the night on their farm.  Spent Monday at Cape Lookout SP, another pretty beach. Hiked a small trail with nice beach views.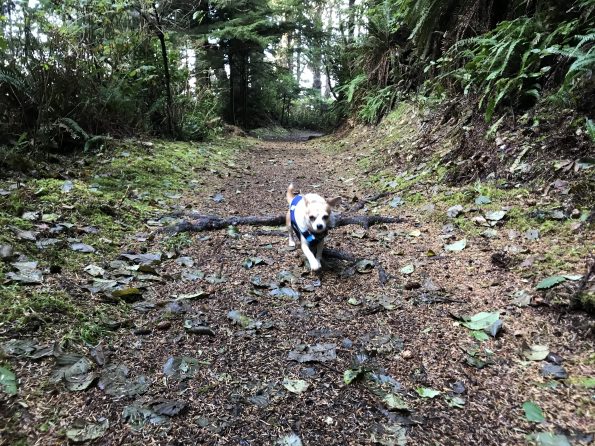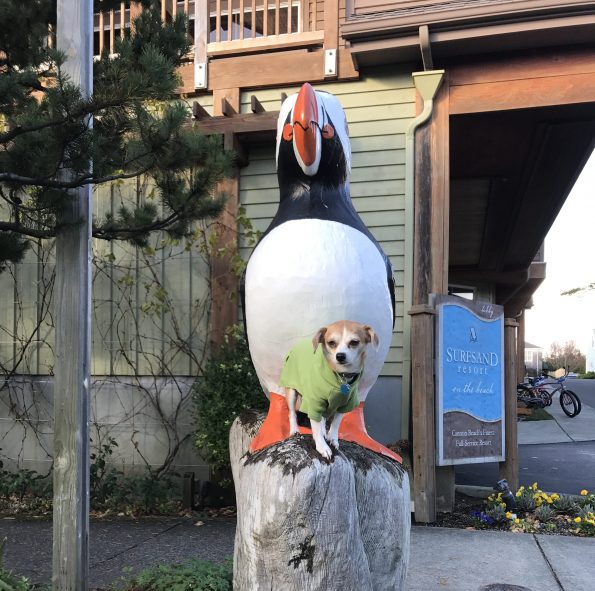 ROAD LESSONS:
Even if it seems wasteful, always put more seal around windows, especially anything on the roof.  We had a small leak left over from when we resealed in the summer. Matt climbed up there and added another very wide and thick layer.
Don't think you'll get a grateful husband if you buy 4 giant bags of on-sale Halloween candy.  He only complains, even as he's scarfing down those kit kats he's mad at.