LIVIN' ON STILTS
Oct 1
I'm so sorry to hear about the Vegas shooting early this morning. Matt and I both had a number of friends there. I talked to a couple of you, but I really hope everyone else is okay.  I love you all so much.
Another combo post for you as we've been kind of stuck working and waiting out the rain or snow.  I'll tell you this, I am humbled by the cold. I thought I'd be fine. Wasn't worried at all. Boy was I wrong! Not only is it kind of miserable to have a million layers on and still aching from the cold, but an old knee injury flared up, made worse by the cold.  Needless to say, I've taken a bit of a break from the more difficult hikes, letting my body do it's work in getting me better. The majority of week 10 was raining or snowing and Matt had so much work going on, it wasn't too difficult to stay in the camper and rest.
We left Banff on Sunday, September 17th,  after some phenomenal hiking around Lake Louise.  I recently brought down our campground nightly budget.  We're shooting for around $23/night average at most now.  That being said, we spent Sunday night to Wednesday camping out at a Walmart in Calgary, Alberta.  Again, Matt had a TON of work all hitting the same time week 10, so it was good for him to have reliable internet while I got to know the ins and outs of Walmart.  We found Fred another adorable insulated fur-lined coat.   He's super cozy.  During the days, while Matt had some time, we did a little exploring of Calgary.  We found an off leash dog park for Fred, where I also got to practice shooting my new super awesome sling shot.   Calgary hosted the winter Olympics at some point, so it was fun getting to see the luge and ski jumps.
Alberta is MUCH less expensive than BC.  I mean, not only is the sales tax less than half of BC, but the gas prices are around a dollar less a gallon.  Food is cheaper, but the campground prices seem to be around the same.
We bought a heater on Tuesday.  Hallelujah! We decided to try camping out back up in the mountains in the Elbow Valley at Gooseberry Campground.   This campground had pretty decent pit toilets, no sewer or dump, but does have electric for a $33/night Canadian. We decided to camp in the non-electric spot for $26 Canadian, or around $21 USD.  I did a bit of exploring and walking around the campground while Matt worked.  The campground was huge, covered in beautiful birch trees and pines with the Elbow River butting up against our site. 
On Thursday, it started snowing early in the day.  The snowfall was just gorgeous, something I've only really seen in movies. We packed up and ran away from it as fast as our truck could safely take us! There wasn't much around the campground as far as activities go.  The hikes I did find looked great, but they weren't within driving distance, and there was no way I could ask Matt to drive me while he was slammed with work. We ended up in High River at George Memorial Campground Thursday evening.  The sweetest lady checked us in.  This campground has very clean restrooms with free hot showers.    
Friday morning, after Fred cleared the park of all squirrels, we found a little path above our site.  Although, at one point, a nice older man on an electric scooter was feeding the squirrels. He had around 10 of the furry creatures circling him, waiting for whatever he was giving him. Drove Fred absolutely ballistic with the need to chase. In the end, I didn't let Fred ruin this guys morning, but the temptation was real.   We walked it into High River Old Town, where the buildings reminded me of a set from the old west. On Saturday, I took Matt down the "Happy Trail" as the town calls it.  The trail is a mostly paved path that winds its way around the town. We even bought an electric heater that was on sale, so now we have two. I'm not messing around. It's cold, guys!  We just happened to be in High River during the town's big Classic Car show.   That same evening we went to the burn out competition down the road. It was hilarious and stinky. Took me back to some fun memories of High School when burn outs were actually considered cool, but then realizing these were full grown men lining up to burn rubber.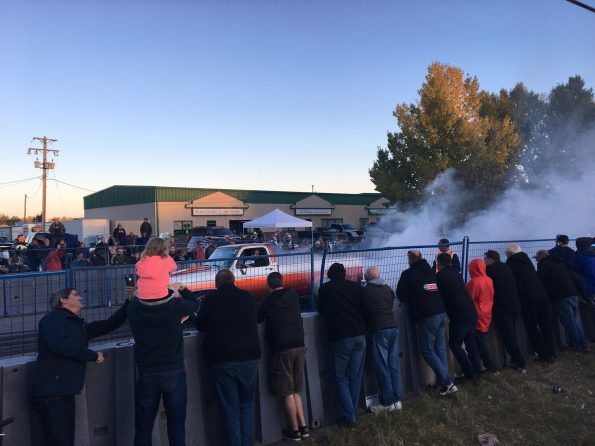 On Sunday, we walked around the town where the cars were all on full display.  Even though classic cars isn't really my thing, it was fun to do something new.  We packed up after the car show and headed Vulcan, AB. Vulcan is a small town a bit south of Calgary. We were too close not to go, and the Star Trek themed town had a campground where the first three nights are free.  We were the only ones at the campground, and with it's nice bathroom with flush toilets, we were stoked. Vulcan also has a nice paved 5K path around the town.  Matt and I ran it one morning, finding the 1k, 2k, 3k markers easily. Somehow we missed the 4k marker and ended up running an extra half mile getting back to the campsite.
I did notice something that maybe only I find strange while walking around the small town.  Almost every car was red.  For every white car, I saw three red. It actually started to creep me out a little bit at first, thinking that the same red truck kept driving by me. But then I looked to the other side of the street and three red cars were all parked in a line by the post office.  There must have been some super sale on red cars at a dealership nearby.
On Tuesday, Sept 26th, we headed out of Vulcan, but not before stopping by the Trek Station Visitor center. We had some fun browsing the memorabilia and even got to play dress up with some life-size cardboard cut outs. Well, I played dress up, while Matt played photographer, giggling at me the entire time.  He didn't realize it was serious business!  I bought a very necessary Federation T-shirt and we were on our way to Crowsnest Pass.
On our way to Crowsnest Pass we stopped by the Head-Smashed-In Buffalo Jump World Heritage Site, still in Alberta.  Basically, it's one of the places the Aboriginals of the area would funnel a heard of buffalo off the cliff as a hunting practice. The place was very beautiful with a couple of small hiking trails and a large museum.  The museum was very informative, and it was a lot of fun learning the history of the area, especially the traditions of the Aboriginal communities from years ago.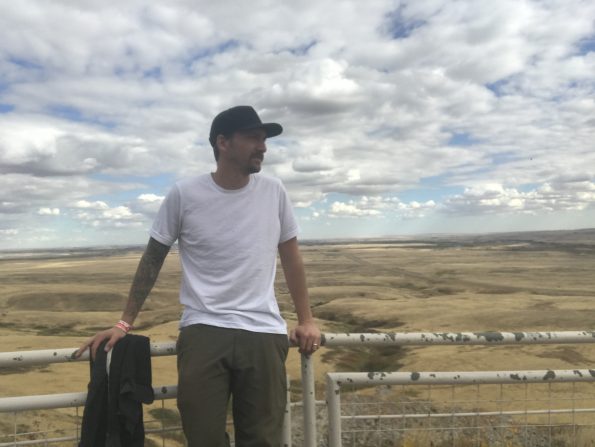 Crowsnest Pass was interesting. The area is made up of four small towns with little going on.  We got to see the massive and deadly rockslide in Frank, that killed around 70 people and decimated a big portion of the town back in the early 1900s.  We ended up staying at a ridiculous RV park called Lost Lemon RV park.  Right off the bat, the lady running the park was super cranky.  We weren't allowed to use the non-service site because we needed water and the dump. We wouldn't be allowed to just fill up and dump without her charging us for the full-priced site.  We were kind of stuck because we needed showers and desperately needed to do laundry, so we ended up taking the $48 site for just one night. The RV park was very clean and nice, but I was pretty annoyed at the price gouging.  I wouldn't stay there again, nor would I recommend the park just because of those reasons.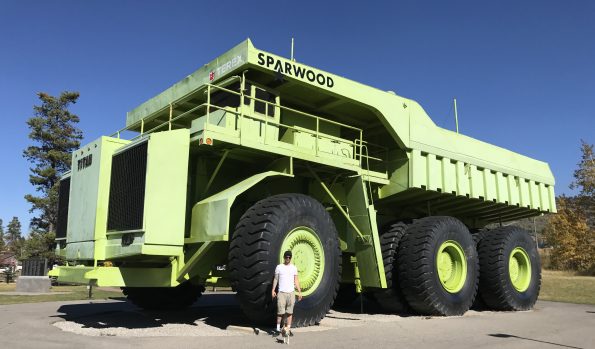 Most of these smaller towns we stopped through were built off the railroad and coal mining.  On Wednesday, Sept 27, we hiked the Miner's Path in the Flumerfelt Park.  This trail was the old path taken by Coleman miners on their way to the McGillivray Mine in the early 1900s.  There was a very pretty creek, a small waterfall and a lot of stairs at the end of the path.  My knee was still bugging me last week, so we skipped Turtle Mountain, which requires a lot of scrambling up and down the steep mountain.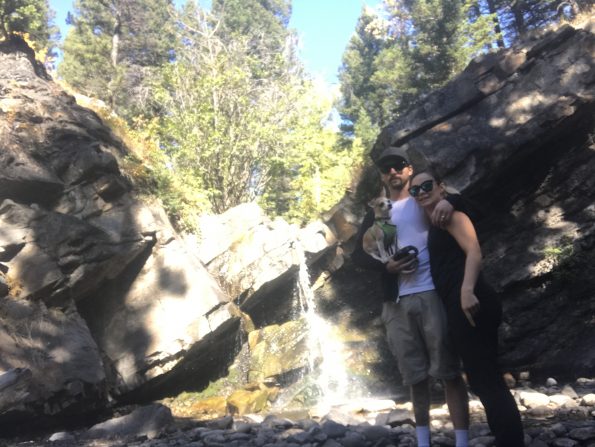 After the short hike, we headed to Fernie, now back in British Columbia.  We went to what looked like an awesome campground near a lake, but turned out to be closed.  Super bummed about that, we ended up spending the night in a parking lot.  We woke up early the next day and headed to the border.  Getting through the US border was pretty easy. We did have to go through an agriculture inspection.  The guard ended up taking a lot of our produce, including some Asian pears was really really looking forward to.  Apparently, if the produce doesn't have a sticker on it stating where it came from, they have to take it. Also, ALL citrus is prohibited.  For some reason, neither Matt or I thought about having any issues. It didn't end up being a big deal, but I still miss those Asian pears.
Once through the border, we had made it into Idaho!  It was still pretty early in the morning, and  the fog wafting off of the trees and number of lakes or creeks along the highway was just beautiful.  In about an hour, we were at Farragut State Park, just about 30 minutes north of Coeur D'Alene.  Farragut State Park is a large old Naval base turned into camping grounds. The park had around four or five campgrounds, some with hook ups, some for groups, and others primitive.  At first, we booked one of the primitive spots down by the water. Unfortunately, we didn't have any service, and Matt still had projects going. We ended up taking a more expensive spot with hook ups in the Waldron Campground.  At $33/night, it's $10 higher than I'd like, but we just got another free night under our belt the night before, so we could afford it.  I was a little annoyed that the showers and bathrooms were closed for the season. There would have been no way of knowing that before booking because you have to pay before you go into the State Park.  It would have been nice for the person checking us to have let us know, but meh.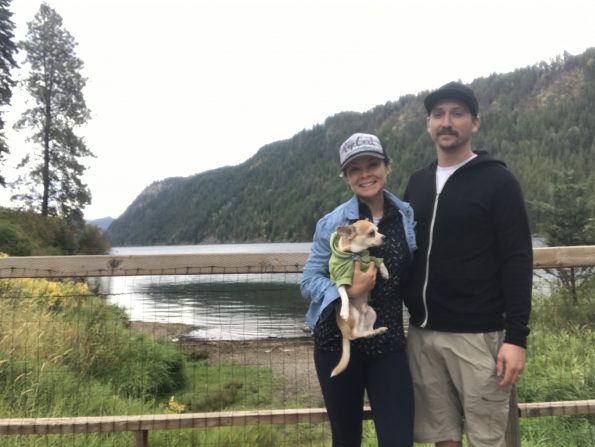 Saturday morning, we did one of the many hikes in Farragut State Park. We chose the Squirrel Cache hike specifically for Fred.  That dude loves his squirrels.  We detoured from the sweet little loop, taking a smaller offshoot trail to explore.  Matt and I ended up scrambling down to Lake Pend Orielle, taking the shoreline hike to Buttonhook Bay.  It was a good morning.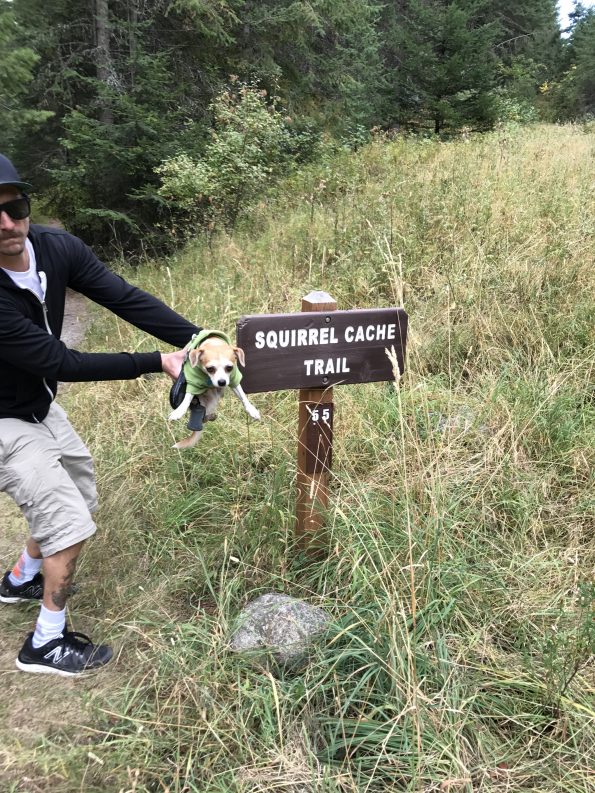 We headed to the McEuen Park in Couer D'Alene, which sits on the Harrison Slough.  I found the trailhead for Tubbs Hill in the park.  It was getting late in the day, so we made plans to do the little hike the next day and headed to Tamarak RV park for the night.  Unfortunately, the RV park host was closed and their website wasn't working.  Coeur D'Alene has a quite a few RV parks, but they are all really pricey. We decided it wasn't worth spending $50-$65 that night just to sleep and leave, so we found another Walmart about 10 minutes from Downtown Coeur D'Alene so that we could spend the next day exploring more of the city.  Downtown Coeur D'Alene is super cute, with fun shops and restaurants. I really enjoyed the town and its charm. We drove back into town the next day, hiked Tubbs Hill, and then set off for Spokane, Washington.
We're now in a totally awesome campground in Riverside State Park – called Bowl and Pitcher campground.  Seems like we finally have a really great place to stay for a few days. Not only is the campground amazing with a river behind us and several trails, but the weather is just perfect. 
Xoxo
Ariel + Matt

Highlights:
Left Banff and headed to Calgary. After a Walmart night in Calgary, we spent a snowy night in Gooseberry campground.  Left Gooseberry (and the snow) to spend the weekend in High River. Went to a Classic Car Show, then headed to Vulcan.  Vulcan is a Star Trek inspired town, with a free 3-night stay campground. After Vulcan, we headed back into the Rockies to Crowsnest Pass.  Hiked Miner's Path, the path taken by the Coleminers back in the early 1900s.  Drove into Fernie after an over-priced night in Crowsnest Pass. Stayed in a parking lot, then headed across the border the next day. Back in the US, we stayed in Farragut State Park in Idaho. Explored Coeur D'Alene after that, then headed to Spokane, Washington where we are now.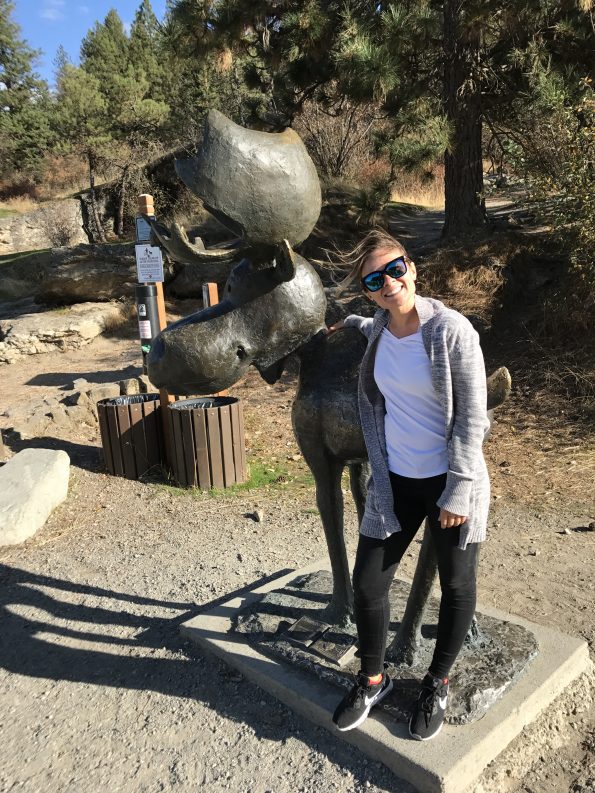 Road Lessons:
Sometimes being desperate for a shower means you'll spend double you budget.

Chicken in Canada is really pricey – I was seeing it for around $20/pound.

The US is very careful with what they allow back in the states. We found out the items can vary from place to place, and the online guidelines are minor compared to the actual list. You can be fined $300 for not disclosing a prohibited item.