LIVIN' ON STILTS
Sept 16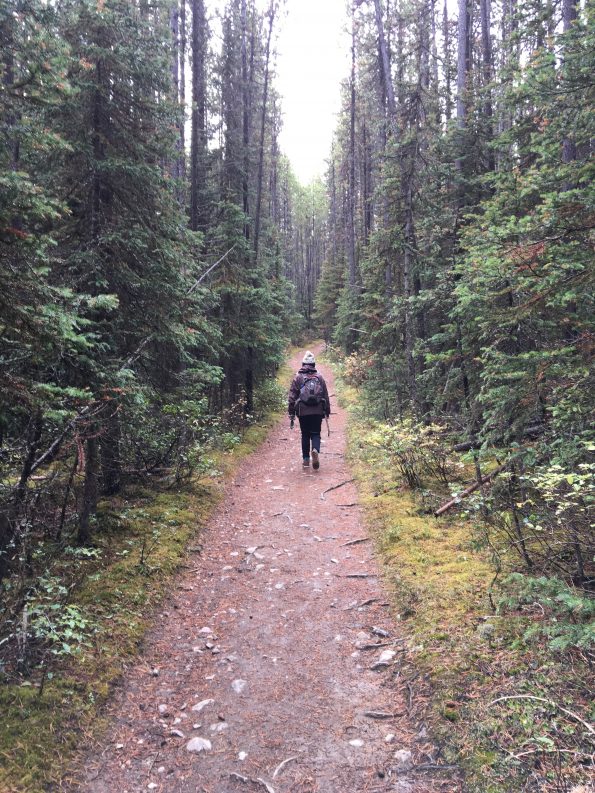 Did you know studies show September 16th is the most popular birthday in the world? So, I'll start by saying "Happy Birthday" to any of you that fall within this statistic.  I decided to combine weeks 8 and 9 for a couple of reasons. The biggest being that week 8 was kind of a sluggish bummer.  We did get our truck back on Friday, the 8th, and were back on the road the same day.  Earlier that week, we were still in Sicamous, trying to fill our days with small activities like running, hanging at the lake, and a lot of Netflix.  Of course, Matt still had a bit of work to do, and it still wasn't a terrible place to be stuck. 
We decided it was a bit too much of a drive to head all the way to Banff at that point, so we stopped in Glacier National Park in BC, Canada.  It's much smaller than Banff NP, but just as beautiful.  Glacier was also much less crowded with quite a bit of interesting history.  I planned a few small hike for us, and a big one for my birthday.
My birthday, Saturday, the 9th, rolls in raining cats and dogs with a side of thunder and lightening.  There goes my birthday hike!  I tried not to be too bummed.  It wasn't ideal, but Matt took care of me all day. He even gave me multiple foot massages.  I received a lot of love from my friends and family.  My In-Laws even called and sang to me.  Love like that will never get old in my book!
By the next day, the rain had slowed down, so we did a little driving tour of the Glacier's more popular attractions.  Our first stop was Bear Creek Falls.  The hike was about a mile round trip, short and sweet stroll to a fantastic waterfall with a few steeper parts.  After that, we headed down the mountain to the Giant Cedars Boardwalk just outside of the National Park.  After seeing so many giant trees in my life, these weren't by any means mind blowing, but the boardwalk was very fun and Fred had a blast.  Our last hike that day was the Skunk Cabbage Boardwalk.  The path leading from the parking lot opened up to a gorgeous grassy area with a stunning river flowing ahead.   The color of the water in Canada is indescribable.  There aren't enough pretty words out there to describe it, and I find not even busting out a thesaurus does the variety of blues justice.  The boardwalk itself was kind of silly, being that we were there a bit too late in the year to see the Skunk Cabbage at it's peek.  Still, it was fun to walk around on the man made path, almost feeling like one big bridge along the way. I do love a bridge.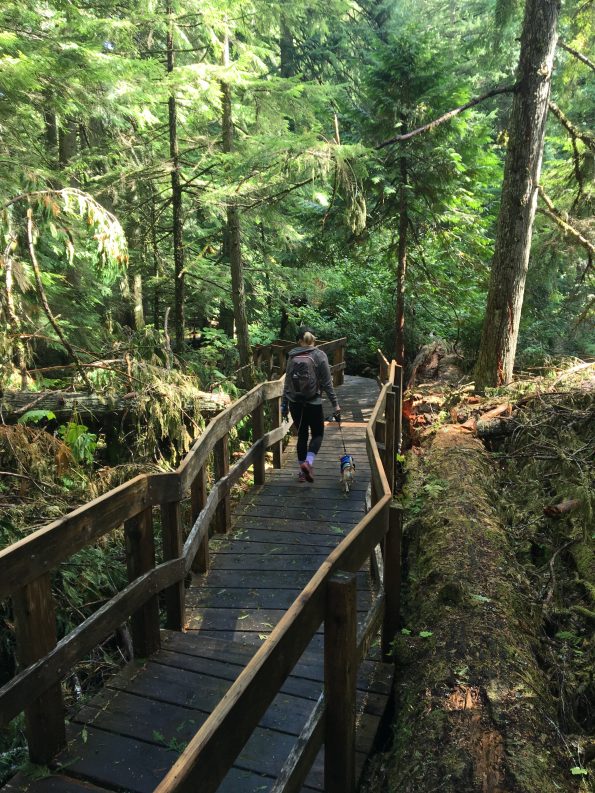 We went down into Revelstoke for a few hours after our driving tour.  The town is so cute with it's colorful buildings and postcard background.  I definitely see us going back there in the future.  We each got a cup of FroYo, a lemon bar and a Nanimo bar.  My Mother-in-Law makes both better, but it was a good enough taste of home to fill our bellies and warm our hearts.
On Monday, the wet weather had cleared, giving us blue skies with a crisp breeze.  We set off early to hike Abbott Ridge.  The trailhead is located at the old Glacier House.  It's in ruins now, but the hotel used to be a huge tourist attraction back in the late 1800s and early 1900s. Unfortunately a devastating avalanche killed 58 railway workers, which ultimately lead to the hotel's demise after losing direct rail service.  After the hotel ruins, we quickly gained elevation on the steep trail.  The first leg of this hike brought us to Marion Lake and a stunning look-out point with views of the many glaciers wedged between the peeks of Glacier NP.  At Marion lake, there is a junction for Abbott Ridge.  We had the choice of taking the longer, more moderate climb to the ridge, or the steeper shortcut.  One piece of advice, always choose the steeper path up if you have the option.   Not only is it safer to ascend the rugged high angle, but it's much easier on your body going up than down, especially if there is loose gravel or scree.  The grueling part of the shortcut was only about a mile before the path opened up to a gorgeous meadow, sprinkled with wildflowers and large boulders. After hiking past the Abbott Observatory, we headed up the multiple switchbacks before making it to the ridge.  The ridge provided a spectacular 360° view of the glaciers and valley's below. We hung out up top for a while, drinking it in and snacking on fruit.  If it weren't for our delay in Sicamous, we would have completely skipped over this fantastic National Park, and never would have had the chance to climb Abbott Ridge. It was a perfect birthday hike, albeit belated.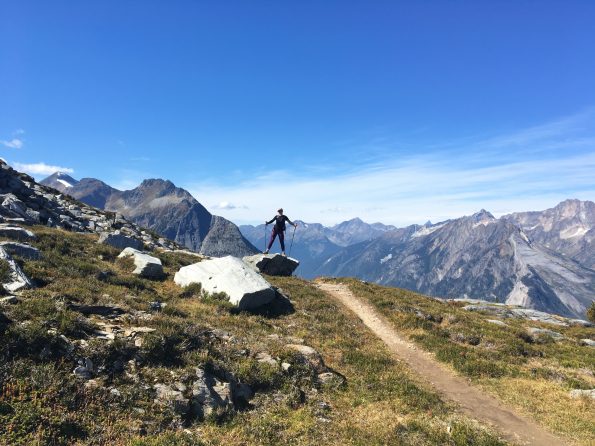 Tuesday, we FINALLY made it to Banff NP.   We were the luckiest of ducks, once again, to have snagged a spot at Lake Louise Campground.  The campground butts up against the bow river, with several hiking trails within walking distance from our site.  We settled in and planned our next week in Banff.  Wednesday was cold and rainy again, we we bundled up and stayed in our camper most of the day with a few moments of nearby exploration.  Thursday, we woke up and headed out early to grab one of the highly coveted parking spots at Moraine Lake.  The traffic guard tried to wave us by, but I sweetly talked him into letting us up to the lot.  After parking, it was time to soak in our first real Banff attraction.  Moraine Lake is nuts.  It's so beautiful and calm, nestled in between just a slice of the jagged Rocky Mountains.  We walked around the lake and then were off on a thee mile hike to Lake Annette.  This lake was much smaller and clearer than Moraine.   Being there in the off-season and mid-week left us pretty much alone the entire walk there as well as at the lake.   We sat on a rock and enjoyed our snacks soaking in the pure glee of being in Banff.  And then it started to snow on us.  Better than rain, right?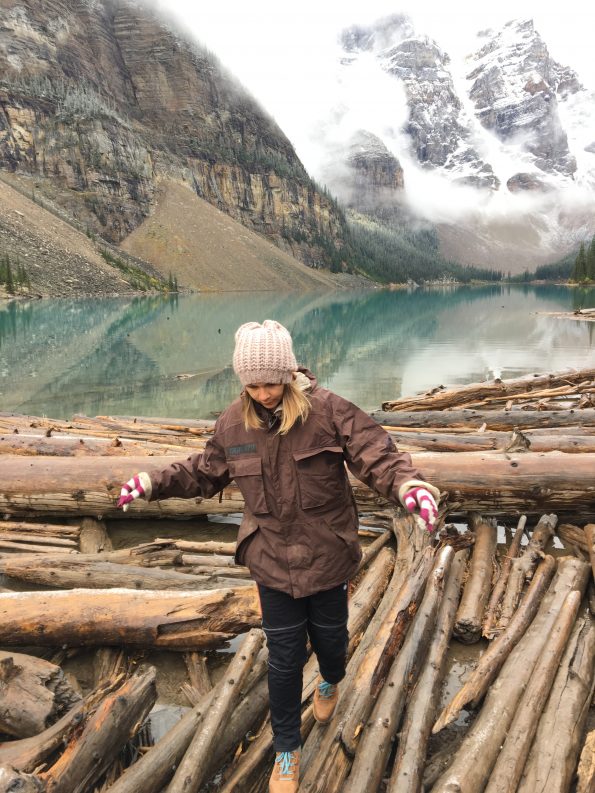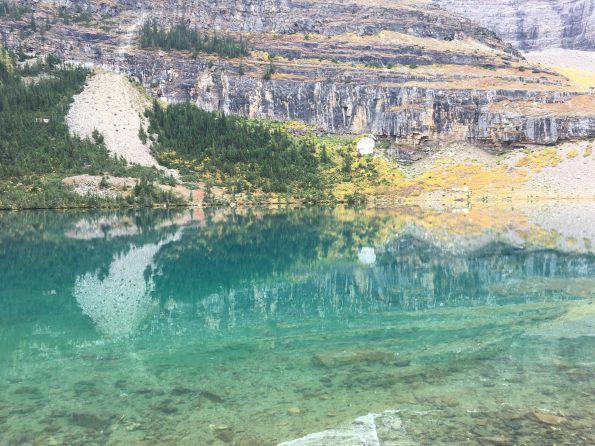 Guys, it's really cold in Banff. Like 28°, shivering in your multiple layers, my face is falling off, cold.   Earlier in our trip, Matt upgraded our power situation by adding another battery. To make room for the additional battery, we removed our furnace.  Seemed like a damn good idea at the time.  Why waste all that room for a giant furnace we never use?  I wished more than anything that we had that stupid giant furnace in Banff.  We never got around to buying the smaller catalytic heater and our SoCal-weather bodies were having a rough time.  We bundled up, drank a lot of tea and coffee, and just dealt with it as best as we could. 
On Friday, we hiked to Lake Louise from our campground.  It was a gorgeous little hike on a steep path that followed along Louise Creek.  And the best part was that the sun was out! Oh glorious sun, never leave me again, you warm my soul and I need you always.  The hike raised our body temps enough to wear less and enjoy more.  Once we made it to the lake, well, it's easy to see why Lake Louise attracts so many tourists from all around the world.  In one word WOW.  While Moraine is a clear variety of blues, Lake Louise is a thick milky aqua.   We couldn't help but sit right on the ground in front of the body to take it all in.  It was slightly crowded, but nothing like it would have been during peak season.  After spending some quality time with the lake, we walked through Fairview Hotel.  The hotel is just exquisite with it's lavish decor, and fancy shops and restaurants.  I hope to be able to stay there one day.
After the justifiably famous Lake Louise, we detoured straight to a liquor store for some bourbon.  Nothing like good Kentucky bourbon to warm you up in freezing-ass Canada because Canadian Whiskey is gross.  We were still cold, but bearable now, and excited to see more of Banff.   Saturday was much more relaxed.  We did the 7.1km Bow River Loop. The color of Bow River matches Lake Louise. Glacier runoff does something magical to the rivers and lakes in these mountains.  I'm perfectly fine sitting crossed-legged on the ground accompanied by only these waters for hours.   Sunday, we packed up early once again to park at Lake Louise for some lake view hiking.  We set off to the historic Lake Agnes Tea house, charging past the crowds, hoping to beat them for a spot at one of their tables.  We ended up sharing a table with a lovely couple from Michigan, ordered two pots of tea, and tea biscuits and jam.  My biscuits were basically hockey pucks but the tea was divine.  The Michigan couple's biscuits actually looked much better than ours, so maybe we got a bad batch.
Lake Agnes was the perfect backdrop to our tea time.  After tea, it was time to head up to Big Beehive.   Big Beehive wraps around Lake Agnes, followed by a number of steep switchbacks to the top.  We soaked in the crystal clear views of Lake Louise from miles above as well as the dangerous mountain ranges surrounding us.  A few hundred feet down, we saw a junction for Devil's Thumb.  I was talked out of adding a couple hours to our hiking day, and logged it for another time. I will climb that Devil's Thumb next summer.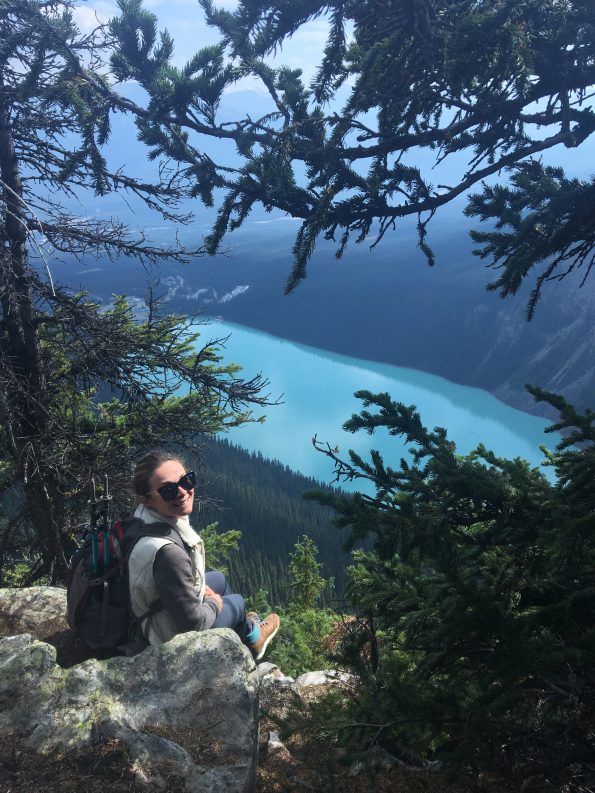 At the bottom of our hike, we spent some more time with Lake Louise, beating ourselves up for being too cold to handle more.  I had planned some other hikes like Cory and Edith Passes, but with the snow, and technical needs we just didn't have, we decided to come back to Canada next Summer when we can enjoy more and complain less.  This means that we didn't go up to Jasper. Rather, we headed straight to Calgary, where it's in the 50s at night, and we don't have to wipe frost off the inside of our camper.
The whole stranded in Sicamous thing really got to us earlier last week. Kind of a catch 22, because if we weren't delayed by the transmission we wouldn't have been in such cold weather and could have stayed in the Canadian Rockies longer. On the flip side, we would have been caught in a smokey veil with bad air quality and lesser views.  All part of the adventure, and I have to remind myself that Canada is not the end all to be all of our trip.  Am I using this term right?  What I mean to say is, either way, there was a major negative and I'm not sure which I'd prefer.  I take that back. I prefer being cold with spectacular views, even if it was a short and sweet trip.
xoxo,
Ariel + Matt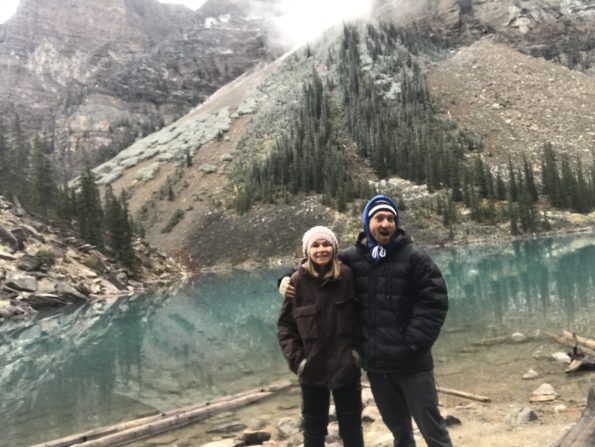 Highlights:
Got the truck back! woohooo, new tranny and feeling good about moving along again. Spent 4 days in Glacier NP (the Canadian one), succumbed to the all-day rain on my birthday by just lounging in the camper.  Hiked Abbott Ridge Monday, finally getting the fantastic hike we craved. Made it to Banff NP on Tuesday. Froze our assess off, saw Moraine Lake and Lake Louise.  Bought some bourbon for our frozen assess. Did some fun little hikes to Lake Annette and Lake Agnes, then beyond to Big Beehive. Froze our assess off. Not going to Jasper this time around, we'll have to come back next summer.
Road Lessons:
We need a heater.
Alberta is much less expensive than BC. Not sure why, but I'll take it!
We need a heater.