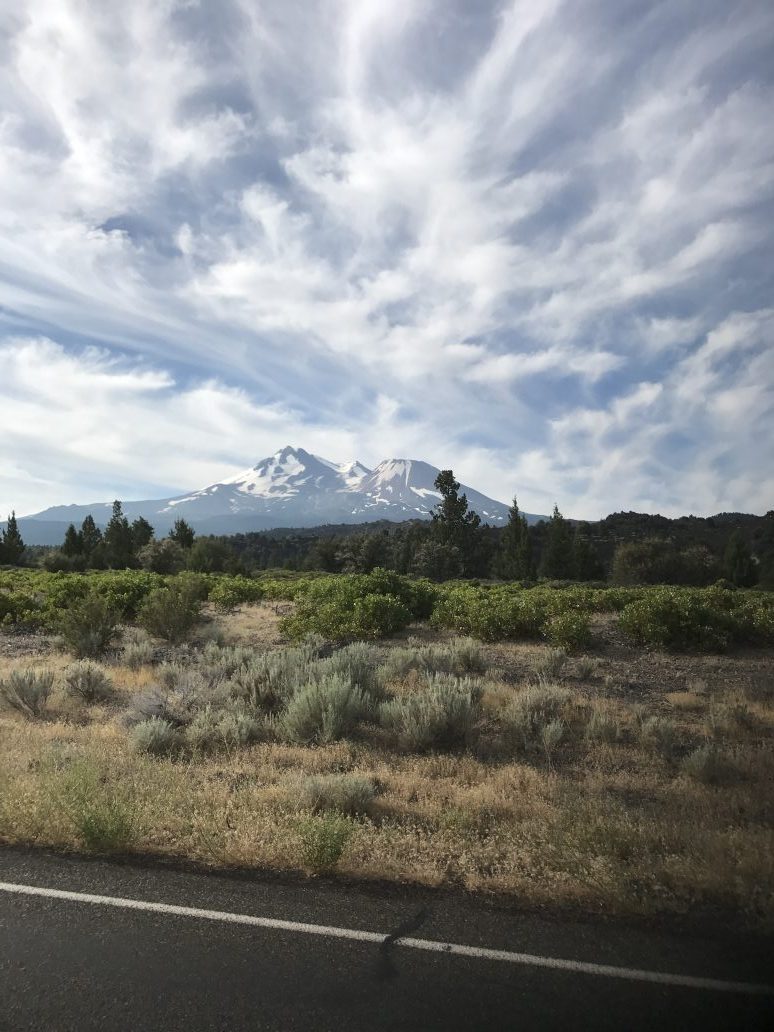 Getting away from the heat and the crowds at Lake Shasta was a must. First thing Saturday morning, we packed up and drove to Lake Siskiyou, which is right at the base of Mount Shasta.  Mount Shasta and Shasta Lake are about an hours drive from each other, and the views were incredible. Nothing I've ever seen before, and no picture can do them justice, but I'll try. 
The RV Park at Lake Siskiyou was huge and super fancy, with free showers, laundry, and a few small cafes. The park was sitting right on the lake and even had its own blow up water park.  We drank a couple of beers at the beach on Saturday, and it was heaven.  Something about that elevation got me pretty pickled pretty quickly.  We met a very sweet little 6 year old named Charlotte that instantly fell in love with Fred. Fred was a big fat jerk and ran away from her.  Even so, she offered to share her pop rocks with him, most of which ended up on her shirt. 
Sunday was even better if you can believe it.  With Charlotte's camp packed up and gone, Fred was able to run around worry-free.  In the early afternoon, our chores and work finished, we rented a couple of kayaks and paddled around the lake.  The water was a lovely blue-green, with just a few boats putting around.  After kayaking, we hung out at a small hidden cove. I read a book while Matt fished.  Those babies weren't biting, so we were forced to buy our dinner again. It was a perfect afternoon and last day by Mount Shasta.  A few deer even came by to say hi to what looks like their distant cousin, Fred.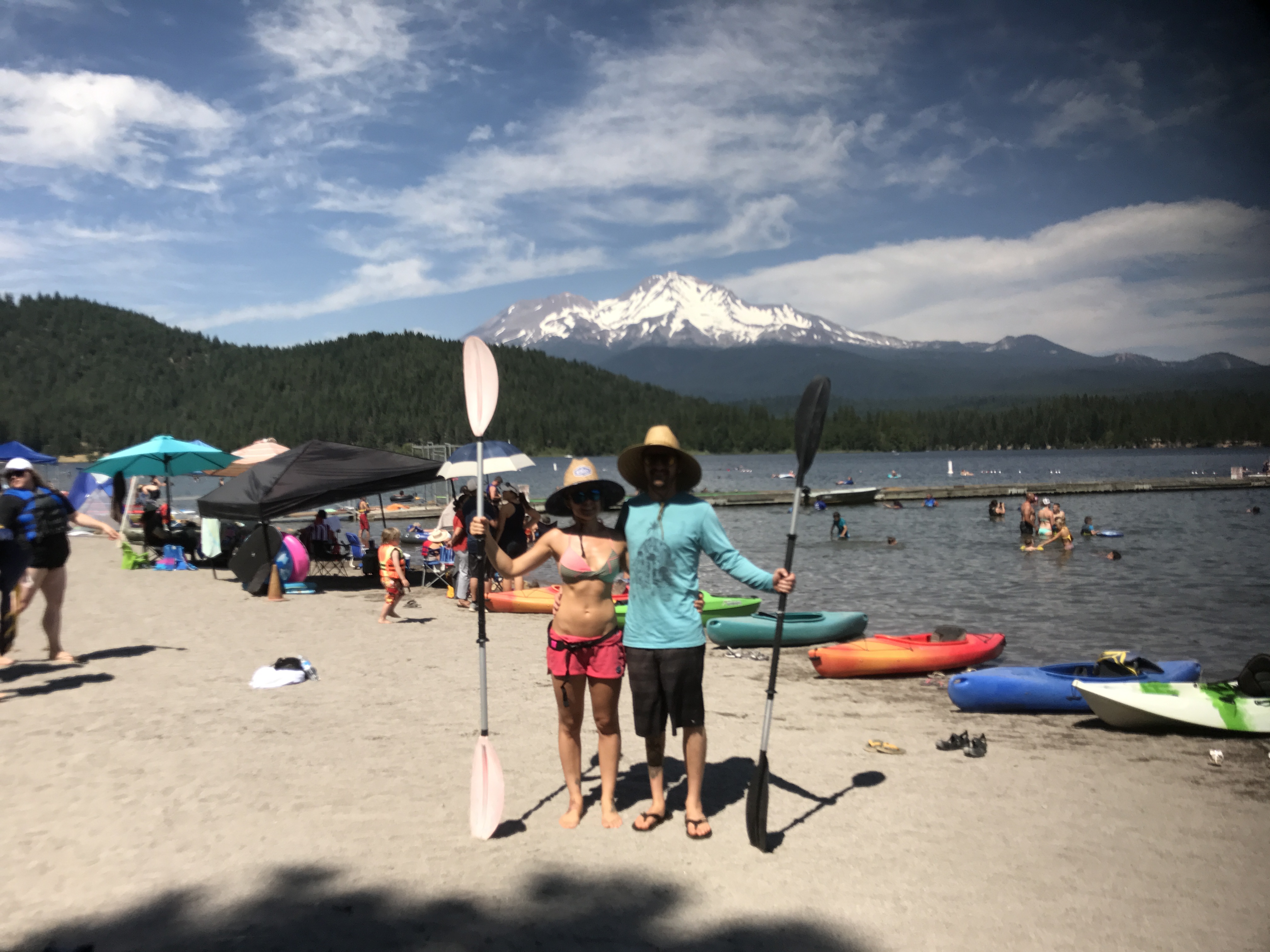 We made it to Oregon Monday morning. Our drive to Crater Lake NP provided gorgeous views of Mount McLoughlin and Klamath Lake. We again made great use of our America the Beautiful pass, on to Mazama Campground, gaining around 2,000 ft elevation.  We somehow lucked out and booked a spot the night before.  You register online, but your spot is chosen on a first come, first serve basis. 
We definitely needed to get some work done, especially since we planned on staying at least four days. Matt did a bit of research, and found out that certain spots actually had decent Verizon coverage. We drove around each loop until we found 3G on the Mifi, which left us with a surprisingly beautiful spot just steps away from the Annie Creek Canyon Trailhead.
Matt and I decided we were going to check out the Annie Creek Cafe for dinner our first night here.  The campground's dump station and water fill were both out of service, and neither of us felt like doing dishes.  So, we put Fred in the camper and set off on our bikes. Unfortunately, about 5 minutes after arriving at the restaurant we heard thunder followed by lightening.  The minute we stepped into the cafe heavy hail and then rain pelted the grounds.  This all wouldn't have been such a big deal if Matt hadn't just put a fresh seal around the vent in our roof above the bed.
After eating faster than I've ever eaten in my life, we rushed back to our site.  As the heavy rain and thunder rolled in, so too did the tarps over the camper.  Thank goodness it seemed the seal had enough time to set up.  It was quite a rush with my babe in the rain!  I also think it's important to mention that I was wearing a white tank top, denim shorts, and sandals throughout this ordeal.
All that weather aside, Crater Lake is the most beautiful lake I've ever seen in person.  I can't get over the deep blues of the water. The lake waters changed from aqua, cerulean, azure, to indigo at night.  We did some fun little hikes around the National Park, including Godfrey Glen and Plaikni Falls, but the best views were found up the half mile stroll to Sun Notch.  Sun Notch provides a spectacular view of the lake. You can see all the way to Wizard Island, and right down to Phantom Ship.  We were so lucky that the day was clear enough to see to well beyond the other side of the lake.  The best way to describe Crater Lake is to say "you need to see this yourself." I was speechless, which doesn't happen often. 
The weather did set us back a bit in our hiking plans, so we decided to stay an extra night at Mazama Campground. We're hoping to average right around $25-$30/night camping costs. At $31/night, it's right at the top end of our wishful average, but we think we can make up for it in free camping down the road (excuse the pun). And Crater Lake is certainly worth it so far.
I'm so damn happy we did stay an extra day. It gave me the chance to hike Mount Scott, Crater Lake's highest point, as well as Cleetwood Cove trail, which leads all the way down to the lake itself.  Mount Scott, with it's panoramic views, and snowy trail, was a strenuous 2.5 miles to the highest point.   Thousands of ballsy butterflies peppered the trail,  literally running into me as I climbed. Not sure what's up with the butterfly madness, but I'm not complaining.  Matt took the plunge and jumped from a 10 foot ledge into the icy waters at the bottom of Cleetwood.  I wasn't prepared, so I just wiggled my toes in the water, but I can tell you it was cold! 
Matt even cast a line into Crater Lake.  Fish were introduced to the lake a while back, and I believe two species still remain.  Didn't come close to catching anything, but he did lose a pretty gold lure to the crater. Even so, it was just another perfect end to a near perfect stay.
I did notice the peel and stick wallpaper we used in the camper is getting pretty messed up on the spot closest to the stove top.  We may be spending a day or two removing the paper and painting when we come home for Christmas. On the flip side, peel and stick flooring is holding up great!
We were sad to leave Crater Lake, but it was time to get back on the road. We headed down the mountain toward Bend.  On our search for free camping, I got to stick my hand in our toilet with a hose and spray the black water tank sensors.  There's definitely a poo nugget (or something else) stuck to the sensors, making the tank seem to always be full.  The "power" wash did the trick, and I did a little dance when the sensors read true.
Moving along, Matt found what seemed to be the perfect free spot at Wickiup Reservoir, about 30 miles outside of Bend. We drove down a rough dirt road, rutted and overgrown with pines. One of the low hanging branches left us a pretty scar on the side of the truck.  After parking our rig, a nearby camper told us about the MUCH more sensible road leading in and out.  Apparently, Google Maps really wanted to test our truck, and took us the silliest way. Unfortunately for us, Matt didn't have enough service to work, so we packed up early and headed to Bend.
On our way to Dusty's! Oh, and Matt has a mustache now.
Thanks for stopping by!
Ariel + Matt
Highlights:
Left Shasta Lake for Mount Shasta.  Ended up camping at an RV resort at Lake Siskiyou. Did a butt load of laundry, went kayaking, and finally took a shower. Made it to Oregon and landed at Mazama Campground in Crater Lake NP.  Experienced thunder, lightening, hail and crazy rain.  Made up for it with some spectacular hikes, and the best views I've seen so far. Matt jumped into a very cold Crater Lake, I got some great hikes in, and Fred kept our campground clear of all the chipmunks.  Found some free camping at Wickiup Reservoir. Stayed one night and headed to Bend. Matt has a mustache.
Road Lessons:
Weather. Weather. Weather. It's real, it happens, be ready.

 

Growing up in SoCal, well, I had no idea.

WinCo is hands down the least expensive grocery store out there.

Sometimes sticking your hand down a poo hole can lead to dancing.